Coalition: derailed or back on track?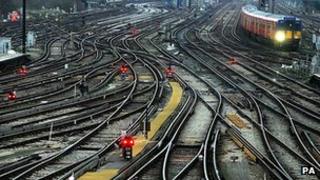 I am writing this post on a train to nowhere.
Downing Street will not yet permit me to tell you where the prime minister and the deputy prime minister are heading. A metaphor perhaps?
This latest coalition re-launch will offer no shortage of those for tired hacks trying to assess the strength of the ties and the extent of the strain at the top of the government.
So, forgive me if I get them all out of my system now.*
Today's joint Cameron and Clegg visit and announcement of extra funding for rail investment is designed to show that their agreed destination remains cutting the deficit.
They are determined to get back on track after the row about House of Lords reform de-railed co-operation between their two parties. The risk is, though, that the coalition spends long periods stuck in the sidings going nowhere rather than risk another disagreement or the consequences of de-coupling.
Phew. Promise to do better by tonight's bulletins. My one serious point, though, was that there is an alternative to the coalition splitting or re-discovering its mojo. That is a government which can't do much new.
*feel free to play metaphor/cliche bingo: coalition - De-railed or back on track ?