Ed Miliband exudes confidence as he faces press pack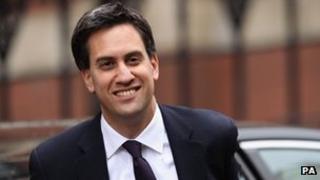 "There are no hard feelings between me and News International. They want me to lose, I want them in jail."
It was the line from the Labour leader Ed Miliband that got the biggest laugh.
With his jacket off and in front of what is a professionally sceptical crowd to say the least, Mr Miliband appeared confident and relaxed.
He had a lunch appointment with the Press Gallery of political journalists at Westminster.
With goats cheese and plum tomato followed by roast duck dispatched, it was time to entertain and enlighten the room of reporters.
It was, perhaps, telling that arguably his best received joke was about the topic some say has helped to change some people's impressions of his leadership.
It is now a year since the Labour leader intervened in the row about phone hacking on the News of the World and said Rupert Murdoch should drop his bid to assume full control of the broadcaster BSkyB.
Ed Miliband's tools for amusement came from a well-stocked kitty of self deprecation.
His critics, to adapt Winston Churchill's withering assessment of his Labour opponent Clement Attlee, would say he had plenty to be self deprecating about.
Working for Gordon Brown and Ed Miliband's rather testy relationship with certain newspapers formed the basis for the volley of gags that was to be the warm-up for the more weighty policy fodder to follow.
Negative headlines
Mr Miliband was introduced by Tim Shipman, the deputy political editor of the Daily Mail.
"You can see why I appeal to the Daily Mail. I am an unmarried father, a North London atheist and the son of a Marxist. I am bang on your demographic," the Labour leader said, with more than a touch of sarcasm.
He thanked, with a wry smile, the assembled representatives of Her Majesty's Press for their "unstinting support" over the last year.
He would share with us, he added, some of his favourite headlines from the last year.
There were plenty to choose from, he said, but "'I'm not crap:' Ed Miliband defends his leadership," from The Sun in January had to grab the number one spot.
Mr Miliband's occasionally faltering forays into social media offered another chance for a joke, when he recounted his inability to remember the name 'Blockbusters' when he paid tribute on Twitter to its late host Bob Holness.
"Twitter has been a complete triumph for me. I deeply regret the Bob Holness, Blackbusters. I am only very relieved he never presented Treasure Hunt. It could have been a lot worse."
So what of his former boss, the former prime minister Gordon Brown?
It was a subject, he joked, that came up during his recent meeting with the Burmese opposition leader Aung San Suu Kyi.
"It was me and Aung San Suu Kyi in a room together. Years under a brutal dictatorship, oppressed day and night, and she said to me: 'That's enough about your time with Gordon."
'New friend Tony'
And, throughout, Ed Miliband kept referring to "my new friend Tony." He was referring to his first public appearance with Tony Blair since Mr Miliband's election as Labour leader.
The two men, who were accompanied by their wives, shared a stage at Arsenal's Emirates Stadium on Wednesday evening. Mr Blair used the event to announce that he would contribute to a Labour Party review of its policy on sport in the aftermath of the Olympics.
Mr Miliband's style was self-assured and warm, characteristics not always seen when he is on television.
His approach and confidence was arguably an insight into a big change in politics since the turn of the year. The headlines whose theme focused on just how precarious his leadership apparently was are no longer so numerous.
Meanwhile, the government has endured a torrent of criticism, buffeted week after week by what Labour have delighted in calling "an omnishambles."
"I was doing a local radio interview a few months ago and reflected that as a politician you have ups and downs," Ed Miliband told us.
"The presenter charitably observed that I only seemed to have downs."
Almost two years on from becoming the leader of the opposition, Mr Miliband reflected that "you have ups and you have downs and you have to treat both with stoicism".