Top QC raises difficulties over coalition's Lords reform plans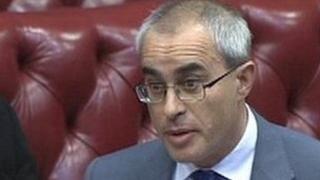 A senior lawyer has accused the government of failing to recognise the constitutional difficulties raised by its plans to reform the House of Lords.
Lord Pannick QC says that that the House of Lords Reform Bill "does not adequately address" fears that a largely elected second chamber "will almost certainly be much more assertive than the unelected House of Lords and reluctant to give way".
The peer - an independent crossbencher - is hugely respected across all parties in Westminster and his views are often used by ministers to support their arguments.
The government is currently planning to regulate the relationship between the Commons and a reformed Lords by relying on existing unwritten conventions and laws known as the Parliament Acts that limit the power of the Lords.
'Disadvantages'
But Lord Pannick says this will lead "more probably to disputes between the two Houses". He also points out that the Parliament Acts apply only to bills introduced in the Commons, not those starting the Lords, or to secondary legislation.
One alternative would be for the bill to set out explicitly the powers of a reformed House of Lords that would prevent elected peers challenging the Commons. However, Lord Pannick says this would mean that the provisions of the bill "would be justiciable by the courts".
"Each of these options has disadvantages," the QC says in a written memorandum for an MP opposing reform.
"My concern is that the government have, hitherto, failed to recognised the difficulty and the importance of the constitutional issue arising from a decision to elect 80% of the Lords."