Missing persons: Families could get 'certificate of presumed death'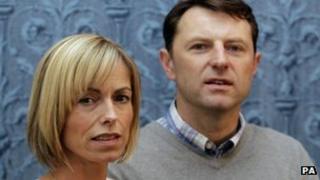 A "certificate of presumed death" could be introduced in England and Wales as part of efforts to provide more help to relatives of missing family members.
The government says better guidance and support is needed to help people cope with the "emotional rollercoaster" of a loved one disappearing.
It supports a change in the law to create a clearer framework of rights.
But campaigners urged ministers to back plans for a guardian to be allowed to oversee a missing person's affairs.
Families of missing persons have long argued they are not adequately supported by the justice system, often being left in limbo and unsure of what to do.
A committee of MPs recently criticised the existing law in England and Wales, saying it was a "patchwork" and did not provide sufficient assistance or certainty to families affected by such incidents.
Among those to give evidence to the Commons justice committee was the family of former Manic Street Preachers guitarist Richey Edwards, who disappeared in 1995 and Kate McCann, whose daughter Madeleine disappeared in 2007.
The Ministry of Justice has accepted the committee's principal recommendation for a new certificate of presumed death, with broadly the same legal status as a death certificate, which would give families the authority to begin sorting out their loved one's financial affairs.
This process already exists in Scotland and Northern Ireland.
'Confusing and difficult'
Ministers have also accepted that guidance for remaining family members needs to be improved after MPs warned of a "complete gap" in current provision.
However, they say more consideration needs to be given to allowing a guardian to be chosen to represent a missing person's affairs, saying the matter is "complex".
The Law Commission has been asked to examine the idea.
"We recognise the emotional rollercoaster faced by families who are left behind," said justice minister Jonathan Djanogly.
"Having a family member disappear with no trace will always be a confusing and difficult time for any family to have to go through."
"The changes we are announcing today will ensure that there is a law in place that provides a simple legal framework by which families of missing people can receive the appropriate guidance and tackle the problems they face in a straightforward manner."
'Convoluted'
Ministers say they will seek to legislate on the proposed changes when there is time in the Parliamentary calendar.
It is understood they would be prepared to support a Private Members Bill by Conservative MP John Glen on the issue - which is due to be debated by Parliament in November.
The MP for Salisbury said he was "quite hopeful" the bill might garner cross-party support and become law by the summer of 2013.
He said there should be no set time limit on when a presumption of death certificate could be issued but individual circumstances, including the manner of a person's disappearance, should be taken into account.
"At the moment there are six or seven different ways of having to prove that someone is most likely no longer alive," he said. "That makes it complicated in what are very painful circumstances anyway."
'Better future'
Charity Missing People said it welcomed the government's approach as the current system for registering someone as presumed dead was "convoluted" and guidance available to families for dealing with the emotional trauma and practical difficulties was inadequate.
"This announcement shows a significant intention to work towards a better future for families of missing people, representing a huge step towards easing their heartache with clear legislative guidance," said its chief executive Martin Houghton-Brown.
For Labour, shadow justice minister Rob Flello said this was an issue which causes "serious heartache" for families who have loved ones missing for considerable time.
"It's now important that the government makes the parliamentary time so that we can address this important matter," he said.