Nick Clegg defends Rio+20 summit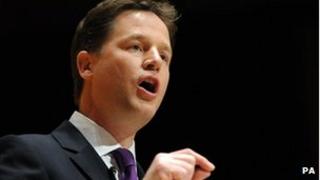 A UN summit on sustainable development has made progress on key areas like the green economy, Nick Clegg has said.
Mr Clegg told MPs the summit had not been "an unqualified success" but did show strong support for making economies greener.
The summit, named Rio+20, took place 20 years after the iconic Earth Summit held in the same city.
The results of the event have been criticised by environment and development charities.
The meeting was the largest UN summit ever organised, with representatives from 196 countries attending.
The UN had billed is as a "once-in-a-generation chance" to move the global economy onto a sustainable track.
'Eco-protectionism'
But charities and some leaders questioned whether this had been achieved. Immediately after the summit Mr Clegg described the outcome as "insipid".
Speaking to MPs, the deputy prime minister admitted: "Rio+20 did not go as far as we would have liked but it did revive a global commitment to an agenda that has come under threat. Progress was made in the areas were progress needed to be made."
"Our dilemma was to agree ways to grow our economies without hoovering up or destroying too many of our precious natural resources, recognising that our economic and environmental agendas must go hand in hand," he added.
Mr Clegg said there had been progress on priority areas like sustainable development and it had been a "major achievement" to get countries to sign up to support greener growth.
He said: "This was the first time a multilateral document was expressing such strong support for the green economy. That in itself is a major achievement, recognising that in the long term greening our economies should not conflict with growing them.
"The declaration helped alleviate some of the fears of developing countries that green growth is a veil for a kind of eco-protectionism designed to stymie their development."
Shadow environment secretary Mary Creagh praised Mr Clegg and Environment Secretary Caroline Spelman, as part of the European delegation, for preventing the summit reaching "abject failure".
But she said: "Expectations were low for this summit and those expectations were met."