Social care funding reform urged to avoid £16.5bn council shortfall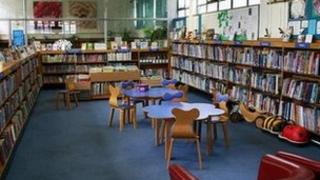 Social care funding needs urgent reform if a £16.5bn council funding shortfall is to be avoided, a report warns.
The Local Government Association (LGA) said the rising cost of adult social care could "soak up" almost all of council spending by 2020.
The chair of the LGA said council budgets were facing "unsustainable pressure".
But the government said councils had to continue making efficiency savings and to get "more for less".
Councils are already facing a funding squeeze under the coalition's spending cuts, which it says are needed to deal with the budget deficit left by the last Labour government.
It is predicted that the cost of looking after older people, the disabled and those with chronic health problems will continue to rise, as life-expectancy increases.
The LGA says funding for services such as libraries and leisure centres will fall by 90% as a result of rising adult social care and other compulsory costs, meaning many could disappear by the end of the decade.
Without "urgent reform" of how adult social care is paid for, the LGA says, a £16.5bn shortfall between service costs and funding would exist by 2020.
LGA chairman Sir Merrick Cockell told BBC Radio 4's Today programme the government needed to "turbo-charge localism" and devolve more power to councils if it was to deal with the shortfall.
He said: "If you join up services at a local level you can save money and very often you can end up with better services."
'Urgent action'
He argued it would not be possible for councils to continue to make efficiency savings if they faced further significant cuts.
"I always said I'd never cry wolf doing the job I'm doing and I'm not crying wolf.
"These are very carefully calculated figures. We can't think we can simply get through this with more efficiency," he added.
In a statement Sir Merrick said libraries, leisure centres and roads could suffer, adding: "By the end of the decade councils may be forced to wind down some of the most popular services they provide unless urgent action is taken to address the crisis in adult social care funding.
"Efficiency savings won't go close to solving this problem. We need an immediate injection of money into the adult care system to meet rising demand in the short term, alongside a major revision of the way it is paid for and delivered in future."
Councils in several parts of England have warned that libraries will suffer unless there is more money.
But local government minister Bob Neill said: "Local government accounts for a quarter of all public spending and needs to do its bit to help cut the deficit inherited from the last administration. The old system of government 'begging bowl' handouts is flawed.
"Our fair finance reforms will give all councils the chance to gain and stand tall potentially delivering an extra £10bn boost to the wider economy helping support local jobs and local firms, whilst still protecting frontline services and vulnerable communities.
"Councils must continue to make savings by sharing back offices, getting more for less from the £60bn a year procurement budget, utilising their £10bn of reserves, tackling the £2bn of local fraud, or reducing in-house management and overhead costs. If councils follow this approach it could potentially save billions of taxpayers' money across the country."