Will Tory MPs support plans for common banking rules across Europe?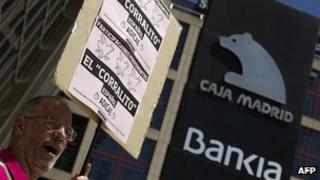 BBC political correspondent Iain Watson assesses whether the government can bank on the support of its own MPs if the EU goes ahead with greater integration of their financial institutions.
Downing Street has made it clear that Britain will not be joining an EU-wide banking union.
The president of the European Commission, Jose Manuel Barroso, has a plan which would set up an EU-wide deposit guarantee scheme and which could set up a rescue fund for banks which get into difficulty by imposing a levy - or transactions tax - on the financial services industry.
There is no consensus even amongst eurozone countries on these proposals and No 10 say that they would be able to veto any proposal to place all of the EU's banks under the same regulatory regime.
But they also admit "there is a certain logic" to a banking union amongst the nations of the eurozone and Treasury sources are making it clear that in principle they back any move which would help "the countries of the Eurozone stand behind their currency".
The UK government will retain the support of the broad swathe of Conservative backbenchers so long as it sticks to the line that Britain won't participate.
For example, the former City high-flier Andrea Leadsom - one of the founders of the Fresh Start project which champions the repatriation of some powers from Brussels to Britain - says it would be a "disaster" for the financial services sector if the UK joined a European banking union.
But she is far less concerned about the prospect of stronger ties between banks inside the eurozone.
'Folly'
If a eurozone-only banking union were to mean that some of the weaker financial institutions in Europe could, as a result, offer stronger guarantees for depositors that at present then she believes that is good for competition.
Her fellow Conservative Douglas Carswell - a long-standing critic of EU institutions - is less optimistic about the prospects for a eurozone banking union but he isn't opposed to the seventeen countries of the single currency going ahead so long as Britain remains aloof from this "folly".
Nonetheless, there are concerns amongst some on the government backbenches that a banking union of 17 EU countries could inflict collateral damage on the UK.
John Redwood fears that British banking subsidiaries on the continent would be hit by a eurozone financial transaction tax, as would any British-based bank doing business with the eurozone.
But he is also concerned that the European Commission is now trying to solve the problem of the last banking crisis - a lack of effective regulation - rather than dealing with the current crisis - a lack of credit for businesses which want to expand.
If a eurozone banking union increased rather than eased recessionary pressures, then he is certain that the British economy would suffer as a result. More than 40% of the UK's trade is with eurozone countries.
Dangers and opportunities
But others say the dangers are as much political as financial.
David Cameron's former press secretary, George Eustice, believes banking integration across the eurozone, along with other moves towards fiscal union, could mean single currency members forge a common position on economic policy and vote en bloc at meetings of all 27 EU states, leaving the UK, potentially, in a permanent minority.
Downing Street have said if banking union goes ahead the UK would need to "ensure British interests are secured and the single market protected".
George Eustice says this would mean eurozone countries might have to accept giving up the use of qualified majority voting in some areas to reassure the UK that it won't have policies detrimental to the British financial services industry imposed upon it.
But he also sees a political opportunity arising from the eurozone crisis.
He believes that the government could be in a stronger position to negotiate the return of some powers from Brussels in return for giving the green light to greater integration, including banking reforms, within the eurozone.
So while many Conservative MPs wouldn't urge their government to try to scupper a Eurozone banking union, they would expect it to exact a price in return.