Rochdale grooming case 'not a specific Asian crime'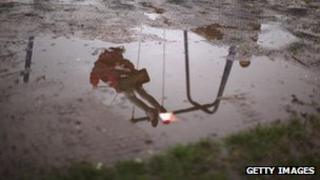 The leader of Rochdale Council says he "strongly" disagrees with politicians who appear to argue that the recent child sex scandal in the town can be described as an "Asian crime".
Labour's Colin Lambert told MPs it was "too easy to badge a community" and there were "issues" across the country.
Nine Asian men were recently convicted of abusing white girls in Rochdale.
Ex-Home Secretary Jack Straw and Tory chairman Baroness Warsi have suggested there has been some targeting.
Baroness Warsi said last month that a "small minority" of Pakistani men see white girls as "fair game".
Mr Straw, Labour MP for Blackburn, claimed after an abuse trial in Derby last year that some men of Pakistani origin saw white girls as "easy meat".
'Horrendous crime'
However, Mr Lambert told the House of Commons Home Affairs Committee: "If their clear statement is that the crime was committed because of the Asian community, then I strongly disagree with them, because it's too easy to badge a crime.
"It happens right across all our communities. In terms of badging it as an Asian crime, that's wrong. There are issues in all communities."
Mr Lambert was critical of the handling of the sharing of data between various agencies, including social services and the police, during the grooming case, saying that he had "felt the back-up and support was not there".
He added: "This is a horrendous crime against children. In this particular case it's a case of Asian men and white girls."
But, he continued: "Right across the country, and on a wider European scale, it's not always men. It can be men and women. It's not always white or non-white. It's an issue of child sex abuse."
Last month, a group of Rochdale men was found guilty of a number of offences including including rape and conspiracy to engage in sexual activity with a child, after exploiting vulnerable girls as young as 13.
Prime Minister David Cameron described the case as "truly, truly dreadful".
There are 41 children's homes in Rochdale, which house vulnerable children from all over England. Of the 60 children living within them, only one is from the borough.
The council's chief executive, Jim Taylor, said social services were "now better equipped" to deal with future cases and that more than 9,000 young people in Rochdale had received awareness training to deal with threats to their safety.
Greater Manchester Police's Chief Constable, Peter Fahy, told the MPs that, looking at sexual offences as a whole, "Asian men do not feature disproportionately".
But he added: "If you look at this kind of offence [grooming], on the streets, then clearly Asian men do feature disproportionately."
Since the conviction of the nine men, further arrests have been made in a second sexual grooming inquiry in Rochdale.