Tom Winsor 'best candidate' for police watchdog role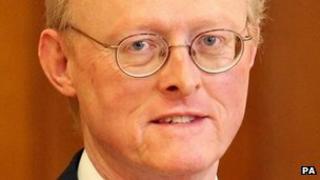 Ministers "will not flinch" from naming Tom Winsor as Chief Inspector of Constabulary for England and Wales, government sources have said.
They said ministers would not be "blown off course" by Police Federation opposition to the choice.
Lawyer Mr Winsor is the author of a controversial review on police pay, and is said to be the first non-policeman named to the post.
But Police Minister Nick Herbert has said Mr Winsor is "the best candidate".
Mr Winsor, formerly the rail regulator, will appear before the Home Affairs Select Committee before his appointment is finally approved.
The committee will meet when Parliament returns on Monday to decide on a day for the hearing.
Its chairman, Labour MP Keith Vaz, has written to the home secretary to express his concerns about the timing of the announcement and to say more time is needed to consider the matter.
Mr Winsor, 54, would be the first person who has not served as a police officer to take up the role since Her Majesty's Inspectorate of Constabulary (HMIC) was first established in 1856, opponents claim. He would replace Sir Denis O'Connor, who retires at the end of next month.
It is understood that in the final shortlist of candidates Mr Winsor was the only one with a non-police background.
A BBC correspondent quoted a source as saying: "It's important that the inspectorate is no longer seen as a club of chief constables, whispering in each other's ear."
Mr Winsor was described as "head and shoulders above" the other candidates. But sources said his appointment was also designed to show the government was not going to be deterred by the Police Federation from pursuing its reform agenda.
'Most important' job
In his report into police pay and conditions last year , Mr Winsor called for the abolition of a series of allowances and special payments and for a pay system that recognised hard work and merit instead of long service.
He also recommended that officers on front-line duties should see their pay rise, and wanted a professional accreditation allowance of £1,200 to be introduced for most detectives, firearms, public order and neighbourhood policing teams.
Mr Herbert told Radio 4's Today programme that the next Chief Inspector of Constabulary would have to command the respect of not just the police service but also of elected police and crime commissioners.
"The inspectorate will continue to have a mix of civilians and former chief constables," he said.
"The candidate Tom Winsor is a highly experienced regulator, has demonstrated his independence in the report that he has given, was by far the best candidate for the job."
But Paul McKeever, chairman of the Police Federation, which represents rank-and-file officers, told Today the organisation was "very surprised that the home secretary has chosen somebody who has so little experience of policing".
He said: "When you look across the police service there are so many people with real experience and real understanding - a profound understanding - of policing, we don't know why the government has chosen a commercial lawyer."
The Police Superintendents' Association of England and Wales commented that the role had previously always been "fulfilled by an individual with a strong and credible record of achievement within policing and knowledge and understanding of the wider criminal justice system".
The Association of Police Authorities said it would develop a strong working relationship with the next Chief Inspector of Constabulary and awaited Mr Winsor's appearance before the select committee "with interest".
Labour MP and former Home Secretary David Blunkett told Radio 4's The World at One Mr Winsor was seen as "antagonistic" to the police forces because of his reports.
"It's almost like poking a stick through the bars of the lion's den at the moment when the police service are most on edge and most subject to disagreement and friction," he said.
He said he had no objection to bringing in someone from outside for the role but that they needed to have knowledge of the service.