Taskforce to help clean-up MPs' toilets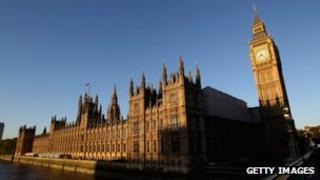 Toilets in the House of Commons are to be more thoroughly cleaned in future after a third of MPs complained they were too dirty.
An annual survey of MPs and their staff found dissatisfaction with levels of cleanliness on the estate as well as gripes about dining facilities.
The Parliamentary authorities have now set up a management taskforce to implement improvements.
The survey, carried out by a market research company, cost more than £20k.
The House of Commons Survey of Services said: "Although satisfaction with general cleanliness was fairly high, substantial proportions were dissatisfied with the cleaning of their office (17% of Members and 25% of Members' staff were dissatisfied) and with the cleanliness of toilets across the Estate (a third of Members and their staff were dissatisfied)."
Concerns were also expressed about the price, quality and range of food on offer in Parliament's cafeterias and restaurants, with one in five MPs saying they were dissatisfied with the dining facilities.
Some said that meals should be less elaborate and more traditional options should be provided.
Requests for extra services included a convenience store, better wi-fi access and a dry cleaners.
The Parliamentary estate already has its own hairdresser and a florist.
A new taskforce made up of existing managers has now been set up to tackle improvements in cleanliness.
A Commons spokesman said: "The Management Board is keen to make swift improvements in those areas where dissatisfaction was found...Service Delivery Teams have been formed, from existing managers, whose tasks will include the enforcement of cleaning and maintenance standards across the House of Commons, including the lavatories."