Treasury denies fresh U-turn on 'skip tax'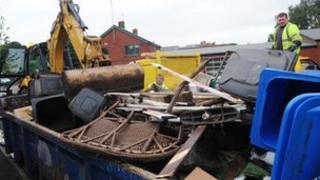 The Treasury has denied there is to be a U-turn over taxes charged on waste dumped from skips.
Labour claims the so-called "skip tax" is the latest in a string of policy climbdowns to be announced by the coalition.
But HM Revenue and Customs denied any changes to the tax had been made, saying only that they had clarified existing rules.
HMRC has issued fresh guidance on the implementation of the policy.
A Treasury source, asked if there was going to be another U turn, said: "Nothing is changing. The story is complete and utter rubbish."
HMRC guidance issued earlier in May, which was intended to clarify the rules, sparked concern among skip operators after some tips started charging the standard rate of £64 a tonne on waste that had previously attracted the lower rate of £2.50 a tonne.
'Confusion'
The guidance stated that waste material known as "fines" - residue waste left over from the end of the recycling line - should not necessarily be classified as naturally occurring "rocks and soils" and could be subject to the standard rate of tax.
Representatives of the skip industry said the clarification marked a "fundamental change" in the way waste was taxed which would have a serious impact on the recycling industry.
HMRC said the clarification had been sought by landfill operators as there were concerns the charges were being applied inconsistently.
However, the department said that there had been a misunderstanding and new guidance to the industry has been published further clarifying how the levy should be applied.
An HMRC spokeswoman said: "This is not a U-turn, it is a clarification."
"The rules have been in place since 2009 and the rules have not changed. The operators need to look at the rules," she added.
Online petition
They insisted the guidance had been intended simply to ensure that site operators applied them correctly.
Following the publication of the new guidance, roadblocks by industry protesters, which had been planned to disrupt the Jubilee weekend, were cancelled.
Richard Hunt chairman of the Plant and Waste Recycling Show - and the man behind an online petition on the issue - said the confusion could have been avoided if HMRC had consulted the industry before the guidance was issued.
"The people who make these decisions do it without realising the implications and understanding how the industry works," said Mr Hunt.
"They need to do a proper consultation with the experts in the trade."
Labour's Rachel Reeves, shadow chief secretary to the Treasury, said: "Construction has been hard hit and this muddle at a time when we are in a recession demonstrates a damning recklessness with jobs at the worst possible time."