MoD job cuts prompt lost skills warning by MPs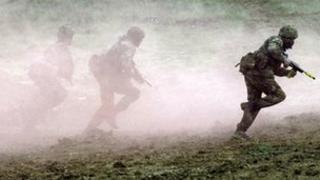 The Ministry of Defence has pressed ahead with cuts to its workforce without understanding what skills it will need in the future, MPs say.
The MoD has to lay off 54,000 staff by 2015, in an effort to reduce expenditure by £4.1bn.
But the Public Accounts Committee said that cuts to personnel had been determined by short-term savings.
The government said cutbacks were needed because of the MoD's £38bn "financial black hole".
Labour said the government had put "savings before strategy".
Following the Strategic Defence and Security Review in 2010, the MoD is in the process of reducing the armed forces by 25,000 military personnel and 29,000 civilian personnel over five years.
The committee recognised that the department was facing "tough financial decisions", with cuts to its budget of 7.5% a year by 2015.
But it expressed concern that the pressure to make cuts in the short-term meant the MoD had not considered the skills it will need to deliver its long-term strategic objectives.
The National Audit Office has raised similar concerns. It said in February that the MoD had "little choice other than to make cost cuts early" but, as a result, it had had to begin reducing numbers before it had worked out how this would affect performance.
'Damning condemnation'
If key skills are lost, the department may have to spend more money on external consultants, the MPs said.
The committee claimed spending on consultants had already "soared" from £6m in 2006-07 to £270m in 2010-11.
However, Defence Minister Peter Luff accused the MPs of a "serious distortion of facts" and said the cost of consultants had recently fallen.
The committee praised the MoD for taking "active steps" to tackle low staff morale by improving the way it communicates with staff about internal changes.
Shadow armed forces minister Kevan Jones said the report was a "damning condemnation" of government changes to the MoD.
"The rushed defence review put savings before strategy with damaging consequences," he said.
"Ministers' decisions mean the MoD is losing key skills, morale is in freefall and taxpayers' money is being wasted."