Cameron 'didn't push for Fred Goodwin knighthood removal'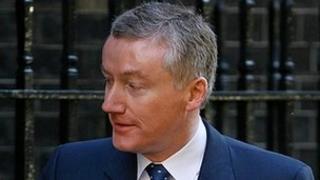 David Cameron did not intervene to strip former Royal Bank of Scotland boss Fred Goodwin of his knighthood, the key official involved in the decision has told MPs.
Sir Bob Kerslake, chairman of the Honours Forfeiture Committee, said he had had "no direct communication" with the prime minister.
But there had been a "signal from a number of people", he added.
Mr Goodwin's knighthood, awarded in 2004, was removed in January.
He oversaw the multi-billion-pound deal to buy Dutch rival ABN Amro at the height of the financial crisis in 2007, which led to RBS having to be bailed out to the tune of £45bn by taxpayers.
Apart from Mr Goodwin, only convicted criminals or people struck off professional bodies have had knighthoods taken away.
'Rigorous'
In evidence to the Commons Public Administration Committee, Sir Bob said the "over-arching" criterion for deciding whether to strip a person of an honour was whether they had brought the system "into disrepute".
He added: "Fred Goodwin got his honour by virtue of his services to banking.
"We looked at the extent to which the issues with RBS have impacted on the country. Tens of millions of pounds of public money went into that company in order to tackle the issues there."
Sir Bob, who is also head of the Home Civil Service, said the committee's deliberations were considered to be "very rigorous" but it had not asked Mr Goodwin for his views.
The committee would have looked at stripping other bankers of their honours "if there had been representations", he added.
Sir Bob also said that, in the Goodwin case, "we clearly had a signal from a number of people in the public world and the prime minister".
But he said: "We knew that the prime minister felt the committee should consider the case but I had no direct communication with him.
"The public furore about the issue clearly justified considering the case. I didn't go in with an assumption in either direction."
Earlier this month, former Labour Chancellor Alistair Darling claimed the decision to remove Mr Goodwin's knighthood had been a "terrible mistake".
The process had been "distasteful" and had brought the honours system into disrepute, he added.