Cameron and Hollande: Downing St dismisses talk of rift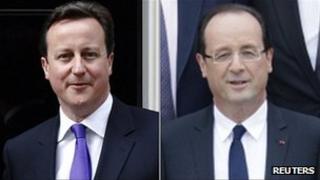 Downing Street has played down suggestions of a rift between David Cameron and Francois Hollande ahead of their first face-to-face meeting.
Downing Street said the talks are "not awkward" despite Mr Cameron's backing for Mr Hollande's opponent in the recent French presidential election.
The prime minister had earlier praised the newly elected Socialist president's deficit reduction plans.
He was speaking ahead of the G8 summit in the United States.
World leaders are meeting to discuss the eurozone crisis, global trade and foreign policy.
Mr Cameron and the French leader are due to meet for the first time at the British Ambassador's residence in Washington.
Asked whether he regretted snubbing Mr Hollande before the election, the prime minister's spokeswoman said: "The election has happened, France has a new president.
"The prime minister has made it clear he is looking forward to having continued good relations with France, which is an important partner of the UK."
And interviewed on ITV 1's Daybreak, Mr Cameron said France now had a "faster" deficit reduction target than the UK's, adding that Mr Hollande would not be increasing public spending to stimulate the French economy.
'Decisive action'
BBC correspondent Norman Smith said Downing Street had dismissed talk of a personal and political rift between the two men, saying their meeting is "not awkward".
Deputy Prime Minister Nick Clegg has also brushed off suggestions of a frosty relationship between the UK and the new government of France.
He said he had had a positive telephone conversation with the French prime minister on Friday.
Mr Clegg said: "We actually agreed that we work together for instance on comparing notes on youth unemployment which is as much of a concern here as it is in France.
"How we are going to boost green industries, the new industries of the future, that's as much a preoccupation for the new French government as it is for ours."
In an interview with French newspaper Le Figaro earlier this year, the prime minister said: "Nicolas Sarkozy is a leader of the centre right and I wish him luck. He has great leadership qualities, he is a brave politician... It will be the French people to decide, I do not have to interfere in his choice. Nicolas Sarkozy has my support. I say it clearly."
But the prime minister's spokeswoman said he took part in a "very constructive, very polite" conference call on Thursday involving Mr Hollande, German chancellor Angela Merkel and Italian prime minister Mario Monti.
The pair are also likely to discuss Afghanistan, with Mr Cameron expected to press the French president about an election pledge to withdraw its 3,400 troops from the country this year - two years ahead of the exit date agreed by Nato.
Interviewed before leaving for the G8, the prime minister said the eurozone economic situation was "truly worrying".
But he said Britain has "some advantages" over other European countries "because we've got our own currency, our own central bank, because we've got a strong government, a strong deficit reduction plan, our banks are strong".
"We do have those advantages but of course if things do go badly wrong in the eurozone that affects us, that's where 40% of our trade goes," he said.
Mr Cameron insisted he "will keep Britain safe" from the the crisis, adding: "We've got to do more to persuade the eurozone countries to take the really decisive action to deal with the problems that they've got."
And on the Politics Home website, the prime minister wrote : "We must renew our joint efforts to support growth, financial stability and energy security. And we must work together to give the world economy the one big stimulus that would really make a difference: an expansion of trade freedoms.
"So I will be pushing for progress on the trade deals that the EU is pursuing with three of our G8 partners: Japan, Canada and the US."
'Growth plan'
Mr Cameron also wrote that he wanted the G8 summit to show "real leadership and creativity" in supporting pro-democracy movements in the Arab world and elsewhere.
And he called for aid to be used to help poor countries "stimulate the private-sector to create jobs for their people and sustainable, equitable growth for their economies".
But Labour leader Ed Miliband - who met Mr Hollande in London during France's presidential campaign while Mr Cameron backed Nicolas Sarkozy - said Mr Cameron was part of the eurozone's problems, not part of the solution, and accused him of failing to show leadership.
"He is one of Europe's leaders, he should have been getting in there in the first place and getting these problems sorted out, and crucially he should have been saying to Europe's leaders 'We have failed over the last two years to sort out this problem'.
"Unless we get a growth plan, unless we see Europe growing, it is not going to work'."