David Cameron sticks to his charted course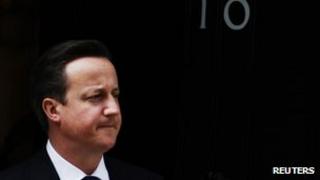 The language could not be clearer.
"It's time to stand firm" and "to resist dangerous voices" calling for "retreat" and "to take the right course" not " the easy one".
Thus, David Cameron will insist today that he is a prime minister not for turning, who will not listen to those arguing for more spending and not less.
Austerity is a word the prime minister doesn't like to use to describe the coalition's policies but he is determined to defeat the claim that there is a choice between policies aimed at cutting the deficit and those designed to stimulate economic growth.
That, of course, is exactly the platform on which France's new Socialist president was elected.
Mr Cameron's advisers insist that he is not picking a fight with Francois Hollande who, they claim, is much more in tune with British policy than his rhetoric suggests.
However, Team Cameron does want to try to stop Labour regaining economic credibility by allying themselves with the new kid on the European block and by calling for both a European and a British plan for growth.
The prime minister will argue in a speech in the north west that his policies are working and that the deficit he inherited is being cut.
Labour reply that it is what they call his "failed policies" and not the eurozone crisis which have pushed Britain into recession and made the road to dealing with our debts longer and harder.