Theresa May attacks 'myths' on real-time web snooping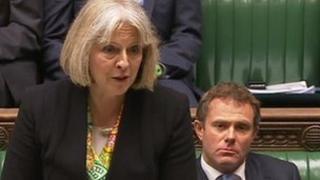 Home Secretary Theresa May has denied planning to allow the police and intelligence agencies to monitor internet use in real-time.
Updating the Commons on the detail of the Queen's Speech, she complained that some "myths" had been circulating about her legislative proposals.
DUP MP Ian Paisley Jnr asked if the authorities would need to recruit more staff to make full use of the powers.
Mrs May said his question was based on a "misunderstanding" over their plans.
Mr Paisley had asked: "To make use of this additional data that undoubtedly the government would then have access to... there will need to be in place more analysts, so that in real-time they can access the information and make use of it.
"Is provision being made for that more practical end of having appropriately trained analysts to go through the material?"
But Mrs May replied: "This is not accessing in real-time. There are some limited occasions today where real-time data is used, for example in a case of a kidnapping, where it could be a matter of life and death whether an individual is discovered."
The government's Draft Communications Bill was "not about accessing in real-time" data on e-mails, phone calls and internet use, she said.
'Black boxes'
"I say to the honourable gentleman that he has a misunderstanding about what is actually going to be done," said Mrs May in response to Mr Paisley's question.
She went on to explain that internet service providers (ISPs) will have to retain data about online communications for up to 12 months, which will be made available to designated officers "on a case-by-case basis".
After this period the data will be destroyed, she added.
"Fishing expeditions" would "neither be necessary nor proportionate", the home secretary argued, so they would not be allowed.
In a committee hearing in April, Lib Dem MP Julian Huppert asked whether the government intended to deploy "black boxes" that would break the encryption used on online communication like Facebook messages.
After Mrs May said it would not be "appropriate" for her to respond directly, Home Affairs Committee chairman Keith Vaz suggested that a follow-up evidence session might help MPs understand the detail of the government's proposals.
The Draft Communications Bill will be subjected to scrutiny before being presented to Parliament, amid concerns about civil liberties from Lib Dem and Conservative backbenchers, who campaigned against a similar plan when Labour was in power.
Conservative MP and former shadow home secretary David Davis has called the bill a "snooper's charter".