Analysis: David Cameron and Nick Clegg's message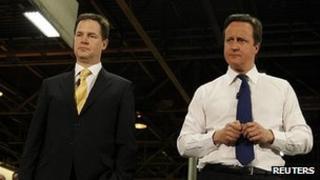 Soviet leaders used to announce five-year plans for tractor factories.
David Cameron and Nick Clegg went to a tractor factory to remind us of their five-year plan for the UK.
Their joint appearance was not, as billed, a renewal of their coalition vows. They largely do not need renewing.
It was instead a reminder of the compact that they believe the British electorate entered into two years ago when they backed the newly formed coalition government.
The Conservative and Liberal Democrat leaders believe that voters bought into the idea that public spending had to be cut to tackle the deficit. They hope that people still accept that it has to happen.
Where there is doubt
But it is a five-year plan.
"We are only two years into this," one government adviser told me. "We've done 40% of the politics, but only 20% of the cuts. There is a long way to go, and we need to remind people of that."
Ministers know, though, that doubts are beginning to creep in. Last week's elections showed that voters are increasingly prepared to give Labour a hearing. And Labour claims the government is cutting too far too fast.
So the joint trip to Essex was an attempt by Messrs Cameron and Clegg to tell voters to forget the self-inflicted errors of the last few months, forget the rows between the Conservatives and Liberal Democrats over second-order policy, and concentrate instead on the essential deal to fix the economy.
The hope of the prime minister and his deputy is, while some voters may be angry over the Budget tax rises and a self-generated fuel shortage, they can be persuaded to remain focused on the central purpose of the coalition.
And on Tuesday both Mr Cameron and Mr Clegg went further, arguing that austerity was not an end in itself but a means to an end of improving the economy and making life easier for people at home. In other words, a hint of sunshine amid the gloom.
"Austerity alone does not create growth," Mr Clegg said. It is a necessary but not sufficient step. But the end, what we are absolutely dedicated towards, is creating jobs, creating prosperity, creating investment, creating opportunity, creating optimism and hope in our country."
The body language and the rhetoric said that, while they disagreed on some things, on the economy they were as united as ever.
'Tough action'
"The need for the coalition, two parties coming together to solve the problems we have in our country, is as important and necessary today as it was two years ago," Mr Cameron told workers at the CNH Tractors plant in Basildon.
"You, the voters, decided that no-one won the last election and effectively you were asking us to work together.
"I would argue that, despite the differences we sometimes have and in spite of the arguments we sometimes have, we have put those differences aside and taken pretty tough action on the deficit, on welfare, on education.
"I think this coalition government is delivering, but I accept it is a tough time in our country, it is a difficult time in our country and we have got more work to do."
So both men promised there would no-let up in cutting the deficit and a greater focus on generating growth.
But they made clear that that would take time.
In many ways, they were asking for patience. Mr Clegg talked of "painstaking work" and noted that under current plans the deficit would not be cleared until well into the next parliament.
'Pathway'
Their trouble is that some voters do not appear patient. They have heard much of this kind of stuff before.
The challenge for the government is that words like this are far less effective than progress on the ground. And it is that what ministers are waiting and hoping for.
The other problem for the coalition is that it is hearing a different rhetorical argument on the other side of the Channel.
Francois Hollande has been elected president of France on the back of anti-austerity slogans that have cheered many in the Labour Party.
But is is not yet clear how much the president-elect will do of what he has promised. And Mr Cameron and Mr Clegg were at pains to point out that Mr Hollande's programme had been caricatured.
The prime minister said: "If you actually look at what President Hollande is suggesting in France, actually his programme for getting rid of his budget deficit is actually on a pathway with ours.
"I think it's a bit of a myth to suggest that somehow there's some people in Europe that are going to spend a lot more money and those of us who realise we have to deal with our debt and our deficit."
But that still does not change the fact that, while Mr Cameron is talking about the continued need to cut deficits, a lot of voters in Europe are voting for something else.