Local elections: Focus on local issues, David Cameron urges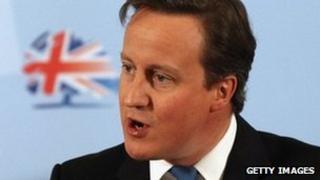 Prime Minister David Cameron has urged people to focus on "local" rather than national issues when they vote in Thursday's council elections.
He told ITV News that Conservative candidates would "look after your area" and "provide value for money".
The party gained more than 200 seats four years ago, but is expected to make losses after what it called a "tough couple of months" for the coalition.
Local elections are taking place in England, Scotland and Wales.
In 2008, when most of the seats up for grabs were last contested, the Conservatives gained 257 councillors across England and Wales, picking up control of 12 local authorities.
'Difficult times'
The party also gained 86 councillors - and four councils - in local polls last year.
Mr Cameron - - has urged activists to be "proud" of their record in office and to promote it on the doorstep.
But in recent weeks the Tory leadership has faced criticised over the Budget and alleged overly close links with Rupert Murdoch's company News International.
In an interview in the Downing Street garden, Mr Cameron said: "I recognise it's a difficult time for families, it's a tough time for families.
"I just hope that people will look at these elections and recognise it's about electing your local council - who is going to keep the council tax down, who's going to provide value for money, who's going to look after your area?"
A party spokesman played down any chance of repeating the successes of 2008, telling the BBC: "We have had a tough couple of months, but we were never expecting to do well in these elections. The Conservative Party are currently at a high watermark in terms of seats and we're defending over 1,000 seats.
"The last time most of these seats were fought, Labour polled 24%. They're now polling in the low-to-mid forties."
The spokesman added: "This election is a test for Ed Miliband's leadership. Independent experts say that Labour should gain around 800 seats in these mid-term local elections.
"A Labour-supporting newspaper suggests that in the current political climate the party should expect to make around 1,000 gains."
But a Labour source said: "This figure has been wildly inflated."
They added that the party was hoping for around 300 gains in England and 100 in Wales.
Voters go to the polls from 0700 BST on Thursday. Results are expected to start coming in on Friday morning, after polls close at 2200 BST on Thursday.