Public attitude towards politics worsening, says Hansard survey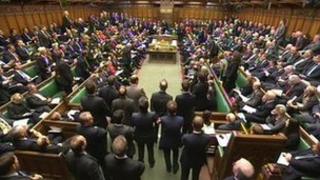 The public are "disgruntled, disillusioned and disengaged" with politics, according to an annual survey by the Hansard Society.
Interviews with 1,163 people found that only 42% were interested in politics - down from 58% last year and the lowest since the survey began nine years ago.
Only 24% believe the current system of coalition government is working.
The number of people volunteering has fallen from 29% in 2010 to 21%, despite David Cameron's Big Society project.
The political engagement audit is carried out annually by Hansard.
'Momentous year'
The society said "the public's growing sense of indifference to politics" had "hardened into something more serious".
The survey found that:
42% of people said they were interested in politics - down 16% on 2010 and the lowest figure since the audit was first carried out
48% of people said they would definitely vote if a general election was called tomorrow - down 10% from last year and again, the lowest figure in the audit's history
30% said they were unlikely or absolutely certain not to vote - up 10% from 2010
24% of people believe the current system of coalition government is working "reasonably well" - a fall of 7%
56% agree their involvement in politics locally could bring about change, but only 38% actually want to be involved
The audit also uncovered variations in attitudes according to political party allegiance.
While just 29% of Liberal Democrat supporters thought the coalition was working well - down 4% from last year - 56% of Conservatives were happy with it, a rise of 10%.
Dr Ruth Fox, director of the Hansard Society's parliament and government programme, said: "2011 was one of the most turbulent and momentous years in recent history, but it appears that the economic crisis, the summer riots and phone hacking did not lead to any greater interest in or knowledge of politics.
"The public seem to be disgruntled, disillusioned and disengaged. Thus far, coalition politics does not appear to have been good for public engagement.
"Worryingly, only a quarter of the population are satisfied with our system of governing, which must raise questions about the long-term capacity of that system to command public support and confidence in the future."