Theresa May says Abu Qatada legal advice was 'unambiguous'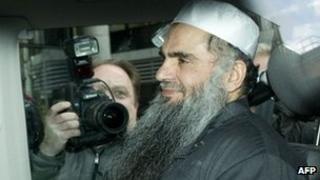 Home Secretary Theresa May has said she was given "unambiguous" legal advice about the deadline for an appeal over the deportation of Abu Qatada.
She told MPs that government lawyers had been "consistent" and "absolutely clear" that the deadline was Monday 16 April and not a day later - as claimed by the radical cleric's lawyers.
It was up to the European Court of Human Rights to decide, she added.
Labour's Keith Vaz urged ministers to publish any advice it got "in writing".
The home secretary is under pressure amid confusion over the deadline for appeals against the preacher's deportation to Jordan.
She has insisted the UK believed the deadline was Monday 16 April although the European Court of Human Rights said a request for an appeal made the next day was before the deadline.
Lawyers for the Palestinian-Jordanian preacher, who is wanted in Jordan on bomb-plotting charges, have claimed the government got the date wrong.
The deportation process cannot now begin until it is decided whether the case should go to the court's Grand Chamber.
Mrs May told the Home Affairs Select Committee the UK's position was based on conversations between her officials and those at the European court, the court's own guidance as well as previous legal precedent.
'First opportunity'
She said the advice she had received from Home Office and Foreign Office "has been consistent and remains consistent until this day".
"I don't consider it a farce for a government minister to take unambiguous legal advice, to act on that advice and to take action at the first possible opportunity to resume the deportation of an individual who is considered to be a danger to our national security," she said.
It was, she added, "operationally appropriate" and "entirely proper" that she had acted to detain Abu Qatada at the "first opportunity" once the UK believed the deadline had passed without an appeal.
She was repeatedly pressed by Mr Vaz, the committee's chairman, on whether the UK received specific advice from the court confirming the deadline, in the form of a note of a telephone call or e-mail.
The home secretary said it was up to the Grand Chamber to decide whether to consider Abu Qatada's referral for appeal.
Although the government could not "rule out" this happening, she said the UK would oppose the referral on multiple grounds, including on the basis that it did not meet the deadline for consideration.
Labour have demanded the home secretary make public the evidence received about the deadline "to prevent these errors happening again".
The ECHR originally blocked Abu Qatada's deportation to Jordan in January.
The UK said last week it had received fresh guarantees from Jordan that Abu Qatada would face a fair trial so he could now be deported.