Nick Clegg 'enjoying government' and 'not defensive'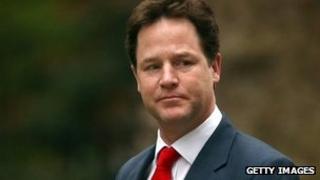 Nick Clegg has said he is enjoying being in government and is "not the slightest bit defensive" about the decisions ministers are taking.
The deputy prime minister told the BBC he felt "lucky" to be playing a part in "making sure this country is strong, prosperous and safe in the future".
Mr Clegg also defended plans to curb tax relief on charity donations.
He said he made "absolutely no apology" for trying to create a tax system in which "everyone pays their fair share".
Ministers say they want to end the practice of wealthy people minimising their tax bill - sometimes to zero - by donating to charity.
Although the donor does not personally profit in this way, it means they are choosing where their money is spent - unlike normal taxpayers - and the Treasury says it is losing out on £50-100 million a year.
Under the plans, previously uncapped tax reliefs - including on charitable donations - would be capped at £50,000, or 25% of a person's income, if that was higher, from 2013.
'Great privilege'
The government has faced a difficult few weeks since the Budget, with criticism of plans to end age-related tax allowances for pensioners and to impose VAT on pasties, as well as the charity move.
Since coming into coalition, Mr Clegg himself has also faced harsh criticism, "most notoriously", as he himself put it, over the decision to raise tuition fees - seen as a reneging on a Lib Dem manifesto promise.
During an interview with BBC Radio 4's Today programme, the deputy PM was asked whether he was enjoying being in government.
"Yes. It's a great privilege. Of course it's tough, but it's a great privilege," he replied.
It was put to him that ministers had been constantly on the defensive in recent weeks.
"I'm not in the slightest bit defensive... about the fact that this very month I've launched a youth contract that will help every 18 to 24-year-old who's out of work to earn or learn," he said.
"I'm not in the slightest bit defensive about the fact that pensioners have received the largest cash increase this month in the state pension ever.
"Of course, governments get into situations where we have bumps and scrapes and media squalls where it's difficult to put your side of the story across, but we're doing not only difficult things to rescue and repair our economy, we're doing good things which I believe will last."
On the charity tax plan, Mr Clegg said the government would keep an "open mind" and look "very sympathetically" at how it would implement a cap.
He said the government didn't want "to damage charities" or "inhibit philanthropy", but the current tax system was "like a sieve" and it was right to place limits on "taxpayer-funded allowances".
The move has been criticised by charities, philanthropists and Labour, as well as some senior Conservatives.
A consultation on it is due to be launched in the summer.