Coalition still working well, David Cameron insists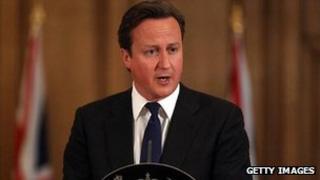 David Cameron has insisted that the government is united, after the Conservatives' co-chairman suggested that coalition with the Liberal Democrats could create "incoherence".
Baroness Warsi told the BBC on Monday that the two parties might "butt up" against each other over policies.
But the prime minister told a cabinet meeting that Tories and Lib Dems "work well together", Downing Street said.
The comments follow heated debates over the NHS, taxes and surveillance laws.
The coalition was formed after no single party won a majority at the 2010 general election.
In recent weeks, several Lib Dems have raised concerns over Conservative Chancellor George Osborne's decision to lower the top rate of income tax from 50 pence in the pound to 45 pence.
'Reality'
There was also protracted wrangling over plans to change the NHS in England so that GPs gain greater power to purchase services and private firms can compete for more contracts to provide services.
And, in the last few days, former Lib Dem leader Lord Ashdown has raised concerns over the ability of the state to monitor people's calls, e-mails and text messages "without restraint".
On Monday, Baroness Warsi told BBC Two's Newsnight that the Conservatives were delivering a clear policy direction but Lib Dem principles could "butt up against that" and "lead to an incoherence".
She added that the coalition arrangement had meant more of the Budget than usual had been in the public domain before it was officially launched.
"I think the coalition means that actually governments can't be as watertight as they could have been if it was a single party," she said.
"I think it's the reality of a coalition. The fact is, we are two parties, we talk to our individual parties when these decisions are being made and some decisions are made public."
'Marriage of convenience'
Asked about Lib Dem Business Secretary Vince Cable's criticism of the government's decision to cap tax relief on charitable donations, she said: "I actually think that if you agree something then you are collectively bound to that agreement and therefore you stand by it once that decision has been made."
Baroness Warsi likened the Lib Dem party president, Tim Farron, who has criticised some coalition policies, to a "bad episode of Come Dine With Me".
She added: "I don't think it's nice for people to come along, sit at your table, eat your food and then slag you off in the cab home."
But a Downing Street spokeswoman said that, during Wednesday's cabinet meeting, there had been agreement that coalition meant "really good cross-government working".
She added: "One of the key things he [the prime minister] said is that the government works well together, as has been seen in recent days and weeks, for example on ECHR [European Court of Human Rights] reforms, on fuel, and also on the big reform programmes for example welfare reform, health and education."
The spokeswoman also said: "Considering recent events we have to look at the long term and actually the progress the government has made has been pretty good. The government does work together, as a coalition."
However, former Labour Prime Minister Tony Blair told Newsnight that the coalition was "more a marriage of convenience than conviction".
"If they're not careful they end up having to satisfy one side and then the other side and, in that policy trade, I think you sometimes get incoherence," he said.
"If I were them looking forward, I would try to make sure that, before these policies are announced, a little more in-depth policy work has been done."