Charity tax row: Donors warn of 'brake' on donations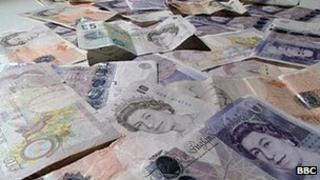 Leading philanthropists have added to pressure on ministers to rethink plans to limit tax relief on charitable donations, by saying it "will deprive charities of much-needed funds".
The 46 donors, in the Sunday Telegraph, said tax relief was not their main motive for donating, and that the cap was "a brake on philanthropy".
Conservative Party party treasurer Lord Fink also said it would put off donors.
But the government said using donations to avoid tax was "not acceptable".
Ministers say they want to end the practice of wealthy people minimising their tax bill - sometimes to zero - by charity giving.
Under the plans, from 2013, previously uncapped tax reliefs - including on charitable donations - would be capped at £50,000, or 25% of a person's income, if that is higher.
'Confusing and dispiriting'
The signatories to the Sunday Telegraph letter include Lucy Sainsbury of True Colours Trust, Fran Sainsbury Perrin of The Indigo Trust and Clare Sainsbury of The Three Guineas Trust.
Others include Gordon Roddick, the widower of Body Shop founder Anita Roddick, from the Roddick Foundation, and Thomas Hughes-Hallett, of the Emily Hughes-Hallet Fund and also chief executive of Marie Curie Cancer Care charity, and Marcelle Speller of Localgiving.com.
They say: "The proposal in the Budget to cap charity tax reliefs is a brake on philanthropy that may deter future donors. It is confusing and dispiriting, and we urge the prime minister and chancellor to think again."
The donors add their gifts are made for a variety of reasons: "We may have been touched by an issue being tackled; we may be inspired to support the development, access to and preservation of the arts; or we may wish to give back to the community.
"None of us view tax relief as a primary motive, although it may substantially increase our donations.
"But it is an important signal that the decision to use wealth to help others, rather than to enrich ourselves, is recognised, encouraged and supported by society."
Some Conservatives have also criticised the chancellor's plan, with party treasurer Lord Fink saying the move would "put people off" donating, the Sunday Times reports.
Senior Tory MP David Davis told the BBC's Andrew Marr Show said that "it seems like an assault on the Big Society idea".
Mr Davis, a former shadow home secretary, added: "Some of the big charities depend on big donations from wealthy people, and for most people this is not a tax evasion.
"It may be a tax reduction but it's not a tax evasion. It's a good cause."
And former Lib Dem leader Sir Menzies Campbell, who is also chancellor of the University of St Andrews, told Sky News the plans seemed to be going ahead "without consultation".
'Majority unaffected'
Ministers at the Department for Culture, Media and Sport were understood to be lobbying the Treasury to amend the policy, by raising the cap or better targeting obvious cases of abuse.
But housing minister Grant Shapps told BBC One's Sunday Politics: "Everybody agrees that this country has to be rescued from going bust."
He added: "We are talking about very wealthy people who might be getting around around these tax flaws...
"We can't carry on spending money that we don't have if people are not paying tax at the appropriate rate."
Foreign Secretary William Hague told Sky News: "Remember the important point here, which is that some people have used charitable giving in order to reduce their tax bill to almost nothing.
"That's not acceptable in the eyes of the country and the government.
"But finding a solution that takes account of the views that are being expressed, that's something that the prime minister and the chancellor have agreed they are open to."
Under current rules, higher rate taxpayers can donate unlimited amounts of money to charity and offset it against their tax bill to effectively bring the amount of tax they pay down - sometimes to zero.
Although they are not benefiting financially, they choose where their money is spent - unlike most taxpayers, whose cash goes to the government.