David Cameron and the 'global moderates'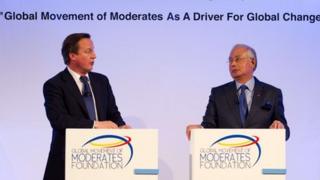 "Vote moderate" is not the sort of election cry you hear in the UK, where politicians prefer to stress the radicalness of their reforms. But is David Cameron ready to buck that trend?
As the UK Prime Minister David Cameron headed to Malaysia on his tour of Asia he took time to praise the country's "Global Movement of Moderates" as the embodiment of values that could guarantee safety, prosperity and religious freedoms to all citizens.
The movement describes itself as "a loose confederation of like-minded individuals, organisations, state-actors, non-state actors and intelligentsia", and espouses "universal principles of justice, excellence and equilibrium".
It is spearheaded by Malaysian prime minister Najib Abdul Razak, who delivered a speech to its inaugural conference in January, in the opulent surroundings of a Mandarin Oriental ballroom in Kuala Lumpur.
The packed conference programme included sessions on tackling extremism and terrorism, and also one shortly after Mr Najib's speech, entitled "Finding the Moderate Voice Within".
For a British prime minister who has been keen to tout his radical credentials, on schools, on police reform, and on localism, the embracing of the "moderate" label may seem a little surprising.
Thwarting the SNP
But, look closer, and it might not be such a surprise.
There are other policy areas, such as immigration, where he has described his position as "moderate", notably in response to accusations from Lib Dem cabinet colleague Vince Cable that his stance on the matter "risked inflaming extremism".
And only last week, again after Lib Dem criticism, this time of increasing state powers to monitor internet usage, the PM pledged to push ahead with the plans in a "moderate, calm and reasonable manner".
Similarly, Mr Cameron has laid claim to a "moderate" position on the continuing status of Scotland in the United Kingdom, warning voters in Scotland of what he sees as the dangers of heeding the Scottish National Party's siren call towards independence.
Of course the definition of moderate is in the eye of the beholder.
In an interview with the Malaysian Insider newspaper, Mr Cameron made no specific mention of alleged human rights issues in his host country - although he was keen to advocate the benefits of "strong and vibrant democracy".
But Mr Cameron welcomed Mr Najib's decision to champion the Global Movement of Moderates, alongside his liberalising economic reforms.
"We share the same ambition to reject violent extremism and to create prosperity for our people," he told the newspaper, adding: "We both want to ensure that Iran does not get a nuclear weapon that would threaten the security of the region and the world."
So an appeal to moderation, in the PM's view, is not only a way to rebut criticism from his coalition partners and undermine the SNP's hopes of Scottish independence.
Abroad, he hopes it will prove to be a useful weapon in the ideological battle against extremism, terrorism and nuclear proliferation.
But it still seems a long shot that any party conference stage will feature a "moderate" slogan any time soon.