Ken Livingstone: Profile of Labour former London Mayor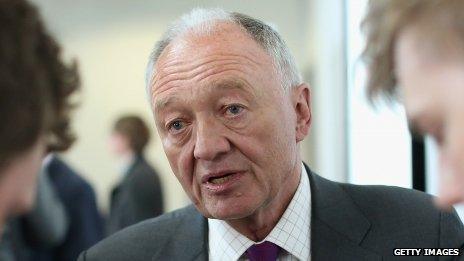 Twice elected Mayor of London, Ken Livingstone has a long and often controversial background in politics.
Well known beyond the reaches of London, Livingstone has a reputation as an outspoken, independent and often combative figure.
Although London's first elected mayor, Livingstone had already served as London's most senior politician, leading the former Greater London Council until it was abolished in 1986.
A fierce opponent of Margaret Thatcher in the 1980s and a frequent rebel within his own party, Livingstone was said by opponents to be one of the "loony left".
His flagship mayoral policy was the introduction of the controversial congestion charge in central London, later extended to west London. He unsuccessfully fought the Labour government as it introduced a public-private partnership plan for the London Underground.
Never far from controversy, he was suspended from office for four weeks in 2006 for comparing a Jewish journalist with a concentration camp guard.
But he was less divisive when involved with London's successful bid for the Olympic Games and in dealing with the aftermath of the terrorist attack of 2005. Even his opponent Boris Johnson praised him for speaking up for London after 7/7 and the failed attack several weeks later.
Livingstone boasts achievements such as the introduction of the Oyster card for London transport, free use of public transport for under-18s in full-time education and a revival and increased usage of London buses. He also claims to have increased numbers of police on London's streets to a record level.
Rebel
Livingstone always had a difficult relationship with his own party. Frequently critical of Neil Kinnock, his battle with the party leadership did not diminish under Tony Blair.
In the run-up to the election of 2000 he failed to secure the Labour mayoral candidacy, losing out to the leadership favourite, Frank Dobson.
Livingstone declared that he would stand as an independent candidate, and so Labour expelled him from the party.
Standing as an independent far from scuppered him, and he won with 58% of the vote.
In 2000, Tony Blair had been critical of his prospects in office claiming he would be a "disaster". However Blair had to eat his words when Livingstone was admitted back into the party ahead of the 2004 mayoral election.
"I think I should be big enough to say the prediction I made has not turned out right," Blair said at the time.
Livingstone has always divided opinion. Former Labour leader Neil Kinnock alleges that it was the former GLC boss who invented the "loony left" and who brought about the council's abolition by Prime Minister Margaret Thatcher.
Livingstone could be a hate figure for many, who were shocked by his call for dialogue with the IRA and championing of gay and ethnic minority rights.
The Sun newspaper once described him as "the most odious man in Britain".
As mayor he faced attack for his links with the Venezuelan President Hugo Chavez, signing an oil deal with him in 2007 and when he lost the mayoral election in 2008 taking up a position as a consultant to Chavez, advising on urban planning.
Livingstone has come under attack for his tax affairs. He has said the allegations that he avoided tax are "smears".
In the 2012 vote for London mayor, Conservative Boris Johnson won a second term after beating Livingstone by 3% in a far closer contest than expected.
Johnson won on second preference votes after failing to gain more than 50% in the first round. Livingstone said it would be his "last election".
Newt fancier
Born in Streatham, South London in 1945, Kenneth Robert Livingstone attended Tulse Hill Comprehensive before taking up a job as a lab technician working on cancer research in the Royal Marsden Hospital.
In 1971 he was elected to Lambeth Borough Council and that was the start of a long career in politics. Over the next 10 years he served as a local councillor and then on Greater London council before becoming the leader of the GLC in 1981.
After the GLC was abolished he crossed the River Thames to Westminster, winning the seat of Brent East in 1987.
At the age of 57 he had his first child with his long term partner and later wife Emma Beal. At the time it was thought to be his first child but in 2008 it emerged that he already had three other children with another two women. Beal and Livingstone went on to have a second child in 2004.
Outside politics Livingstone is best known for his love of newts. Less well known is that Kate Bush wrote a song about him for the Comic Strip Presents TV series.
Despite having no elected position in London, Livingstone operated what amounted to a virtual shadow mayor role after losing in 2008 - all part of his goal of regaining the job he told his successor was the "best job in the world".