Court television plan 'in Queen's speech'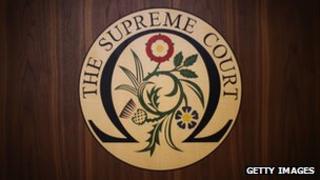 Plans to allow television cameras into courts in England and Wales are to be announced in the Queen's Speech in May, according to reports.
Justice Secretary Ken Clarke said last year he would end the filming ban to boost public understanding of justice.
Cameras are only expected to be able to film the judge's summing up and sentencing in serious criminal trials.
The Ministry of Justice would say only that it planned to introduce the change "as soon as parliamentary time allows".
Filming is currently banned in all courts in England Wales - except the Supreme Court - by two Acts of Parliament, meaning new legislation is required to allow cameras in.
There is no similar ban in Scotland - but all parties must agree before cases can be broadcast.
The most important case to be televised to date was the appeal by Lockerbie bomber Abdelbaset al-Megrahi, who was tried under Scottish law in a special court in The Netherlands.
'Held to account'
Announcing his plans in a written statement to Parliament in September, Mr Clarke said that as a starting point judgements at the Court of Appeal would be broadcast - and in time he hoped to expand that to the Crown Court.
"But I will work closely with the Lord Chief Justice and judiciary on how this could be achieved," he said. "I am clear that this must not give offenders opportunities for theatrical public display.
"We will work to ensure this does not hinder the administration of justice and that it protects victims, witnesses, offenders and jurors. Collectively, these plans will open the justice system in an unprecedented manner, allowing the public to judge for themselves how we are performing and to hold us to account."
The UK Supreme Court can be broadcast - but it hears arguments about important points of law, rather than live evidence and cross-examination of witnesses.
If the change is implemented as reports suggest, the public would be able to hear a judge's summing up - his outline of the prosecution and defence cases, and the legal points the jury must consider.
'Right of veto'
They would also hear the sentence passed and the judge's explanation for why that punishment had been chosen.
The Ministry of Justice refused to comment on suggestions the new legislation would be set out in the forthcoming Queen's Speech.
But a spokesman said in a statement the government and the judiciary were "determined to improve transparency and public understanding of courts".
"That is why we announced in September that we are planning to remove the ban... as soon as parliamentary time allows," he said.
Last year, Master of the Rolls Lord Neuberger - the top civil judge in England and Wales -said broadcasting trials could increase public confidencein the justice system, but warned that judges must have "full rights of veto" over what could be shown.
Director of Public Prosecutions Keir Starmer has also backed a change, on the grounds that it would allow the public to "see justice".