MPs back assisted dying guidelines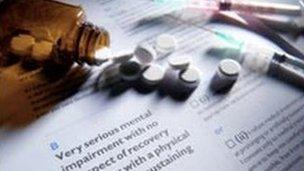 MPs have backed the "realistic and compassionate" official prosecution guidelines on assisted dying.
Conservative Richard Ottaway proposed a motion praising guidance issued in 2010 by the director of public prosecutions, which was passed without a vote.
The advice says a decision to prosecute someone who helps another to die must be in the public interest and must take account of the suspect's motivation.
Assisting a suicide is illegal and the issue is highly controversial.
The Commons Backbench Business Committee allowed the debate, the first full one on assisted dying on the floor of the chamber since 1970 - although there was a vote on a backbench MP's "10-minute rule bill" in 1997.
Mr Ottaway said it was "a very sensitive issue" which provoked "deep emotion", and it should be for Parliament, as representatives of the public, rather than the courts to "have the last word" on it.
He said the law at present did not distinguish between "the person who irresponsibly and maliciously encourages a suicidal person" and "the loving spouse who lovingly fulfils a partner's request".
'Out of step'
The 2010 guidelines were the result of a case brought by Debbie Purdy, a terminally ill woman, who in 2009 won a ruling from the Law Lords requiring the director of public prosecutions (DPP) to set out whether her husband would be committing an offence if he accompanied her to the Swiss assisted-suicide organisation Dignitas to end her life.
DPP Keir Starmer listed factors which should weigh for or against prosecuting - including whether the victim had reached a "voluntary, clear, settled and informed" decision and whether the suspect had acted "wholly compassionately".
Labour MP Dame Joan Ruddock tabled an amendment to the motion, suggesting the guidelines should be enshrined in law, and Mr Ottaway offered his backing to that.
He said it would "address the charge that this debate is the thin end of the wedge or the slippery slope".
"The current policy exists and can currently be amended without parliamentary scrutiny. If we have the policy enshrined in statute it will need another statute to change the law," he said.
Dame Joan herself agreed, saying it would mean mean that "this sensible humane and popular policy could only be changed by Parliament" - not by any future DPP.
But the amendment was not taken to a vote.
For the government, Solicitor General Edward Garnier said he did not advocate a change in the law.
"It will create a form of sclerosis. It will lead to all sorts of problems which may not be intended," he said, adding that any future DPP who overturned the guidelines would be "judicially reviewed for behaving in a rather whimsical way".
He said he agreed with Dame Joan that the 2010 guidelines were "a good thing", adding: "So why not leave them where they are and let them remain good?"
'Foolish'
Tory MP Fiona Bruce laid a rival amendment calling for improvements in palliative care.
She was backed by Labour's Frank Field, who said there had been a lot of "deceit" in the debate - and it was really "a debate that dare not enter its name on the order paper - euthanasia".
He said MPs risked appearing "foolish" in the eyes of the electorate, adding: "Somehow we think this country is populated by all these husbands who love their wives and wives who love their husbands... all gathering around doing the right thing.
"I also see a very nasty side sometimes about life and I know perfectly well that in those circumstances those individuals would have no hesitation in trying to persuade people what the British, the decent thing to do is - end their lives."
Defeat for the motion would not have caused the guidelines to be withdrawn, because they were brought in by a court order and could only be withdrawn with another order.
The Suicide Act 1961 - which makes assisting suicide illegal - states that the DPP decides on all cases of assisting suicide. If MPs wanted to remove that power, they would have to change the law.
Mr Ottaway, who chairs the foreign affairs select committee, said: "I hope today that, whatever view we take individually on the law, we can agree that the approach taken by the DPP was both realistic and compassionate.
"If there is majority in this House in favour of this motion, I think we will have done the nation a service. If there is a majority against it, we have a problem, with the DPP and 82% of the public saying one thing and the people's elected representatives saying another."
Sarah Wootton, chief executive of campaign group Dignity in Dying, said: "Whatever their views on assisted dying and whether dying Britons should have the choice of an assisted death in the UK, I do not imagine MPs will be able to, in good conscience, vote against the motion and effectively say to those people watching the debate that they should be in prison for making one of the most heart-breaking decisions of their lives."
In January, the Commission on Assisted Dying - set up and funded by campaigners who want to see a change in the law - said there was a "strong case" for allowing assisted suicide for people who are terminally ill in England and Wales.
But the report had a mixed response, with critics calling it biased.