Competitiveness before breakfast lunch and dinner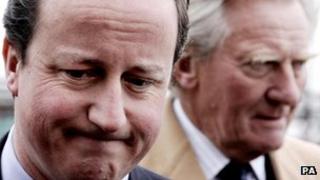 "If that light shines on uncomfortable truths, so be it".
That's the rider in the skills audit of the nation in the competitiveness white paper Michael Heseltine conducted in 1996.
16 years on, he'll soon be at it again.
The now Lord Heseltine has been asked by the prime minister to do a 'competitiveness audit'.
Sources say it is intended to be along the lines of his gargantuan 1990s white papers, definitive pieces of analysis put together by Heseltine back when he was president of the board of trade in John Major's government.
It's key because it shows Conservative coalition thinking shifting slowly towards what was once anathema to their tribe - an industrial policy.
Business secretary Vince Cable's re-leaked letter which emerged last week said the government lacked "a compelling vision".
Yes, but he said it could be filled by an industrial policy.
Cable is clearly supported on this. Though the concept was discredited by 'picking winners' in the seventies, it is now growing in attractiveness.
The prime minister's own advisers are working on similar ideas, and I know of one influential Tory minister who has also told the chancellor the time has come for the Tories to set an industrial strategy.
Many Tory backbenchers agree.
Factory standards
So now Heseltine will carry out the diagnosis that any industrial policy would first of all need: a competitiveness audit.
Heseltine's review may look at every aspect of the British state, not just industry.
He is said to be exercised by competitiveness in "the wider British political economy". So that's pharmaceuticals, green technology, the media industry but maybe also road provision, banks, supermarkets.
Business bodies like the CBI may be examined for whether they promote competitiveness. Does the CBI do as much to promote competitiveness in the UK. Is it as helpful as its sister organisations in Germany?
In particular, Heseltine is said to be exercised by standards - so for instance in Germany, standards in factories are, he is said to think, much higher than in Britain's factories and as a result people are more keen to buy German parts. They are more reliable.
In the 1990s, Heseltine set up a competitiveness unit with 30 members and many cabinet ministers sat on its committee. This has since been disbanded... But the audit may find a need for its reinstatement.
When I worked for Michael Crick, my predecessor as Newsnight political editor, we sometimes discussed how the then crop of politicians shaped up to previous ones.
Michael wrote a great biography of Heseltine and always mentioned his subject's indefatigability. Years later Heseltine is driving city mayors and the regional growth fund and now this. He's turning into one of the prime minister's most important advisers.