Speaker Bercow 'horrified' at MPs' £30,000 plant bill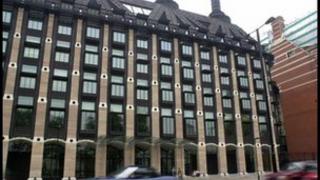 Commons Speaker John Bercow has said he was "horrified" to learn the taxpayer is paying £30,000 a year to rent 12 fig trees in a building used by MPs.
Mr Bercow told the House magazine the contract for the plants - in the atrium of Portcullis House - had been in place since 2001 and should be renegotiated.
The public would think they were being "fleeced", he said, and that MPs were living in a "another universe".
Portcullis House has been home to MPs' offices and committee rooms since 2001.
The fig plants are used to provide shade in the atrium of the building, which MPs use to hold meetings with constituents and other visitors.
'Fleeced'
Mr Bercow, who chairs the committee responsible for running the parliamentary estate, said the cost of the contract for renting the plants and maintaining them could not be justified.
"I was horrified by it. Inevitably and understandably it will cause people out there to think these people are living in another universe.
"I think the contract should absolutely be revisited. If we are going to have trees, they absolutely shouldn't be trees that cause us to fleece the taxpayer in this way, and that must change at the earliest opportunity."
The cost of the trees' rental was publicised earlier this month following a Freedom of Information request submitted by the Taxpayers' Alliance pressure group.
In the interview, the Speaker also suggested autumn party conferences should be held over the weekend, allowing the Commons to sit throughout September.
At the moment, the Commons goes into recess for nearly a month from the middle of September while the Lib Dem, Labour and Conservative Party conferences are held.
MPs agreed to shorten their summer break a couple of years ago, returning to Westminster in early September for about two weeks ahead of the conference season.
But Mr Bercow, formerly a Conservative MP, said most people would expect to be at work in September unless they were on annual leave and MPs should be no different.
"I think a lot of our electorate think, given that the MPs finished in the latter part of July, why are they not back at their place of work undertaking their scrutiny, standing up for our interests, debating our concerns, in September? They should be. And frankly I agree with that."