Phone hacking: IT 'deleted Murdoch hacking email'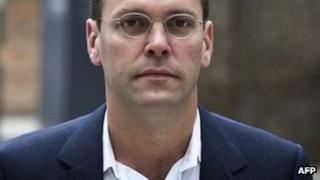 A 2008 email informing James Murdoch of the potential scope of phone hacking at the News of the World was deleted in an IT upgrade last year, lawyers say.
The Commons media committee has released a letter from law firm Linklaters detailing how the email was lost and thus not provided in evidence.
The email chain, released in December, mentions claims that phone hacking was "rife" at News International.
Mr Murdoch says he only read the final email, requesting a meeting with him.
He said he was unaware of wrongdoing at News International papers.
In its letter to MPs on the Culture, Media and Sport Select Committee, Linklaters said the email was deleted from Mr Murdoch's work computer as part of an "email stabilisation and modernisation programme" on 15 January 2011.
On 26 January 2011, The Met Police said they were launching a fresh investigation into hacking after receiving "significant new information" about activities at the News of the World (NoW).
A hard copy of the email was found in a storage crate at News International's old Wapping offices in November 2011 during a search by Linklaters and PricewaterhouseCoopers (PWC), it said.
It was part of documents that appeared to have originally been held in ex-NoW editor Colin Myler's office.
PWC subsequently conducted a forensic search of News International computers to try to find an electronic copy of the email chain, but focused on email servers "because it was understood that the email systems were designed to store data on the email servers rather than individual physical devices".
Linklaters said "forensic analysis" later found two other electronic copies on a laptop that Mr Murdoch had stopped using in October 2010 and on his personal assistant's computer. Those copies were made by the devices' "automatic synchronisation" with email servers, it said.
'Nightmare scenario'
The email chain, attached to a letter from Linklaters acting on behalf of News International's management and standards committee to the MPs, discussed a "nightmare scenario" arising out of a case brought by PFA union boss Gordon Taylor.
The emails said Mr Taylor wanted to "demonstrate what happened to him was rife throughout the organisation".
In a separate letter to MPs in December, Mr Murdoch said he was "confident" he had not read the full email chain.
Mr Murdoch told the committee in July that it had only been made apparent to him near the end of 2010 that more people had potentially been involved in phone hacking.
In November, he told MPs he had not been made aware of details suggesting phone hacking went beyond former NoW royal editor Clive Goodman when he authorised a large out-of-court settlement to Mr Taylor in June 2008.
Goodman and private investigator Glenn Mulcaire were jailed in 2007 for illegally accessing voicemail messages on the phones of royal aides.
Mr Myler and ex-News International legal chief Tom Crone have said they "did inform" Mr Murdoch about the existence of evidence that phone hacking might be widespread, but Mr Murdoch said he believed "their testimony was misleading".