Sunday Politics around England, Scotland, Wales and N Ireland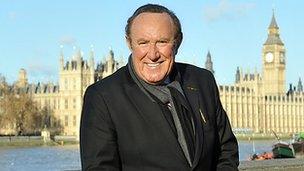 The Sunday Politics brings you the news from Westminster and your part of the UK.
Andrew Neil will host the programme from TV Centre in London and then hand over to 14 teams around the country - from Glasgow to Plymouth and Belfast to Nottingham.
Use the links below to find out more about the programme from your part of the country.
There is more news on the Sunday Politics' Facebook page and twitter site.
The programme is broadcast at 1200 most Sundays on BBC One - sometimes moving to accommodate sporting events - and can be seen for seven days on the BBC iPlayer.
Sunday Politics in the East
Website for Sunday Politics East
Sunday Politics in the East Midlands
Website for Sunday Politics East Midlands
Sunday Politics in London
Website for Sunday Politics London
Sunday Politics in Northern Ireland
Website for Sunday Politics N Ireland
BBC news index: Nothern Ireland Politics
Sunday Politics in North East and Cumbria
Website for Sunday Politics North East and Cumbria
Sunday Politics in the North West
Website for Sunday Politics North West
Sunday Politics in Scotland
Website for Sunday Politics Scotland
BBC news index: Scotland Politics
Sunday Politics in the South
Website for Sunday Politics South
Sunday Politics in the South East
Website for Sunday Politics South East
Email the team in Tunbridge Wells
Sunday Politics in the South West
Website for Sunday Politics South West
Sunday Politics in Wales
Website for Sunday Politics Wales
BBC news index: Wales Politics
Sunday Politics in the West
Website for Sunday Politics West
Sunday Politics in the West Midlands
Website for Sunday Politics West Midlands
Sunday Politics in Yorkshire and Lincolnshire
Website for Sunday Politics Yorks and Lincs
Daily Politics and Sunday Politics online
BBC website for Daily and Sunday Politics
Facebook site for Daily and Sunday Politics
Twitter site for Daily Politics