David Cameron pledges to combat metal theft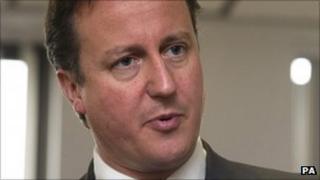 David Cameron has pledged to tackle metal theft, as MPs were told former Gurkhas were patrolling railways to stop thieves stealing track.
The Nepalese ex-soldiers, working for the private security firm G4S, have been protecting lines in the north of England, Tory MP Jason McCartney said.
Speaking at Prime Minister's Questions, he said cable theft had cost the rail industry £43m in the last three years.
The prime minister said the government and the police were working on a plan.
Mr McCartney also spoke out about wider problems of metal theft.
"Homes and churches are being pilfered of their lead and copper and in the past month one churchyard in Huddersfield had 169 memorial plaques stolen for [their] metal," he told the Commons.
"Now is the time to legislate to stop these stolen metals going to merchants."
Mr Cameron responded by saying the government was "determined to put a stop to this really appalling crime".
"The theft of metal, particularly from war memorials, is an absolutely sickening and disgusting crime," he said.
The PM said the government was working with the Association of Chief Police Officers (Acpo) to come up with a plan to tackle the problem and it would involve looking at the regulation of scrap metal dealers.
'Absolute epidemic'
Speaking after PMQs, Mr McCartney told the BBC: "As an ex-military man, I think it's a shame that we have to employ security people, whether Gurkhas or other ex-military people, to protect our railways."
He described cable theft as an "absolute epidemic" that had brought trains through Huddersfield to a standstill last month.
G4S offers former servicemen for a range of services, including "metal theft prevention for the rail and energy networks", according to its website.
Last week, shadow home secretary Yvette Cooper warned laws governing the scrap metal industry needed updating if there was to be a crackdown on theft.
She told the BBC: "It's too easy for people to get away with this and too hard for the police to be able to crack down on what is clearly organised crime on a very serious scale."