Hammond briefs MPs for first time on Afghanistan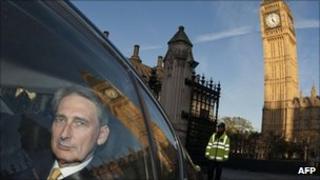 Philip Hammond has used his first speech as defence secretary in the Commons to tell MPs that progress made in Afghanistan was not "irreversible".
He praised UK troops, saying there had been "real and meaningful" advances but said insurgents were changing tactics.
He told MPs insurgents were now focusing on high profile targets such as August's raid on the British Council offices in Kabul.
Mr Hammond became defence secretary after Liam Fox resigned last week.
In his statement to MPs, Mr Hammond said: "On the security front, progress has been real and meaningful, but it has been hard won and is not irreversible."
He added that the US embassy and International Security Assistance Force (Isaf) headquarters had been attacked in recent months and said the murder of former Afghanistan president Burhanuddin Rabbani was a "particular setback".
Shadow Defence Secretary Jim Murphy said the shift to high profile attacks was a "worrying security trend" and questioned whether targeted assassinations were a sign that insurgents had infiltrated Afghan security forces.
In response, Mr Hammond said that while the Isaf alliance remained ready to provide support, the Afghan national security force (ANSF) had "been able to respond effectively to insurgent attacks and to pre-empt many".
In a scheduled update on events in Afghanistan, Mr Hammond restated the government's intention that troops would not remain in a combat role beyond the end of 2014 and said he intended to visit troops in Afghanistan "as soon as practical".