Watchdog refuses to sign off Commons accounts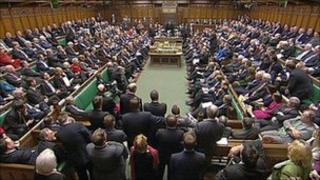 The National Audit Office has refused to fully sign off the accounts for MPs' finances after an apparent stand-off with the Commons' most senior official.
Commons Clerk Malcolm Jack refused a request for details of MPs under investigation over expenses.
Auditor General Amyas Morse said the decision was "disappointing" and led to him qualifying his opinion on the 2010-2011 Members' Accounts.
The Commons Audit Committee said it "accepted and respected" the ruling.
Apart from that issue, the auditor general said the financial statements otherwise "give a true and fair view of the state of the House's affairs as at 31 March 2011".
'Inappropriate'
He said progress had been made on previous areas of concerns including errors in MPs' salary and expenses payments. The latter had "changed radically" since responsibility was transferred to the new expenses body Ipsa.
But the overall accounts were qualified because information on MPs still under police investigation was withheld by Mr Jack - the Commons chief accounting officer, who has since retired.
Mr Morse said he had been given the information when he carried out the 2009-10 audit.
But he said when he came to do the 2010-11 audit "while some anonymised information was provided, the clerk felt unable to provide further details on the grounds that, prior to a final decision on a referral to the Crown Prosecution Service, this would be inappropriate".
Mr Morse added: "This is disappointing as I have processes in place which ensure that national security-classified and sensitive information is appropriately handled and remains confidential.
"However in this case the accounting officer [the Clerk of the Commons] was unwilling to make the necessary information available to me."
'Small number' cases
Six Parliamentarians - former MPs Elliot Morley, David Chaytor, Jim Devine and Eric Illsley and peers Lords Taylor and Hanningfield - have been prosecuted for fraudulent expenses claims.
Another former MP, Margaret Moran, has been charged with false accounting - she has not yet entered a plea.
The Metropolitan Police say the expenses inquiry continues and a "small number" of cases remain "subject to assessment".
A spokesman for the Commons said the Members Estimate Committee "welcomes the comptroller and auditor general's conclusion that the financial statements give "a true and fair" view of the state of the House's affairs as at 31 March 2011 and that the transfer of responsibility for the regulation and payment of members' salaries and expenses to the Independent Parliamentary Standards Authority was successful."
He added: "This request [not to supply details of MPs under police investigation] was refused on the grounds that prior to a final decision on any referral to the Crown Prosecution Service such action would be wrong.
"The refusal applied only to the names of the members concerned. All transaction details were made available to the auditor and the NAO were provided with summary details of the amounts under investigation."