Liam Fox's friend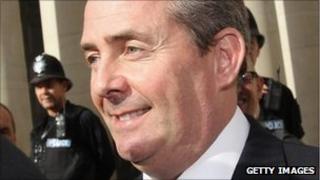 Who met the defence secretary in Singapore? In Florida? In Dubai? In Bahrain? In Hong Kong? in Israel? In Sri Lanka? In Washington?
Who, in fact, was on 18 out of the 48 foreign trips Liam Fox has made since the election?
Who met the new commander of US Central Command for dinner? And had dinner with senior politicians in Israel? And travelled back from President Obama's inauguration? And met the president of Sri Lanka too?
Who handed out business cards claiming to be an adviser?
Who fixed a meeting with a defence contractor when no civil servant was present?
The answer is, you've guessed it, the defence secretary's friend, best man, former intern, one-time parliamentary adviser and business associate who is not employed by the taxpayer or the Conservative Party or Mr Fox himself.
Adam Werritty was, Mr Fox told us today, "not dependent on any transactional behaviour to maintain his income". That clear?
Perhaps not, which is why the permanent secretary at the MoD will now be asking Mr Werritty some questions to try and find who who DOES pay him to globetrot, and to check that there is really no relationship between that and his relationship with Liam Fox.
No wonder Downing Street were keen to stress that today's report was "interim".