Commons expenses watchdog too slow, says MPs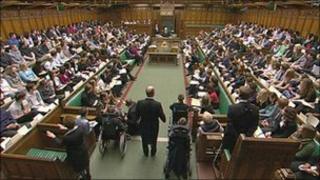 Nine out of 10 MPs do not claim back money they are entitled to because of red tape, a report on the new Commons expenses body has found.
The Public Accounts Committee said whilst the watchdog was robust and had improved public confidence, MPs were spending too much time making claims.
The Independent Parliamentary Standards Authority (Ipsa) was set up to tighten rules after the 2009 expenses scandal.
It welcomed the report and vowed to improve efficiency and effectiveness.
MPs on the Public Accounts Committee said the new system was too expensive and did not provide value for money.
Their report revealed that 85% of MPs complained they had to spend too much time dealing with expenses.
'High risk claims'
That meant they had less time to spend on parliamentary activities or with constituents, they told the committee.
Committee chairwoman Margaret Hodge said: "Ipsa did a good job in introducing the new system for paying MPs' expenses.
"It came in on time, expenses have been paid within the rules and MPs have been reimbursed accurately. There is evidence that public confidence is starting to improve.
"However, the current scheme is expensive to run and does not yet demonstrate value for money.
"It is striking that 38% of claims are for less money than the average cost of administering them."
She added that Ipsa needed to get better at distinguishing between high value and high risk claims.
Ipsa said it welcomed the report and pointed out that it was still in the early stages of its operations.
The report backs up findings in July by the National Audit Office (NAO) which said Ipsa was safeguarding public money but needed to do more to streamline its procedures and cut costs.
MPs told the NAO they were under-claiming and covering legitimate costs themselves.
The NAO questioned whether the checking process had to be so thorough.
MPs also told the NAO they were spending four hours a month on expenses, and their staff 12 hours a month - time which the NAO calculated costs £2.4m a year.
The expenses scandal revealed widespread misuse of the permitted allowances claimed by MPs and led to public outrage and a loss of confidence in politics.
It resulted in resignations, sackings, de-selections and retirement announcements, together with public apologies and the repayment of expenses.
Several members or former members of the House of Commons and House of Lords were jailed.