Lib Dem conference: Ashdown attacks Afghan 'failure'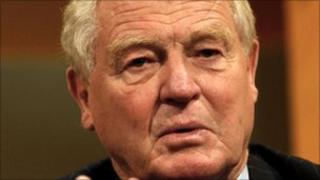 Afghanistan is still "riddled with corruption" and the West is to blame for the failure to stabilize the country, Lord Ashdown has said.
The former Lib Dem leader said many lives had been lost because of mistakes in policy and UK forces were "losing respect" among the Afghan people.
He told the Lib Dem conference a "victor's peace" was now impossible.
Armed Forces Minister Nick Harvey said Afghanistan's problems required a "political solution".
The two men were speaking at session on foreign affairs and Britain's place in the world at the Lib Dem annual conference in Birmingham.
Lord Ashdown has been an outspoken critic of President Karzai and in 2008, withdrew his name as a potential UN envoy to the country after the Afghan government objected to his appointment.
'Blame us'
He told the conference that the Nato mission in Afghanistan, which began in 2001, had become the "absolute model of how not to do an operation".
"Afghanistan from top to bottom is riddled with corruption," he said.
"We are tied to a government today which is losing respect amongst the Afghan people and we are losing respect at the same time.
"Don't blame anybody else, blame us for this. The tragedy of it is that our young men are sent out there to die and many, more Afghans have died, because we in the West, because our politicians, failed to get our own act together."
Mr Harvey acknowledged the killing of former Afghan president, Burhanuddin Rabbani, in Kabul on Tuesday had been an appalling setback and said he was "more optimistic" about progress being made on security issues than long-term political reconciliation.
"I believe we are on task with the development of the Afghan national security forces to make that transfer of power by the end of 2014.
"But the problem in Afghanistan is a political one and it is only capable of being resolved through a political solution."
'More international'
More broadly Lord Ashdown urged Liberal Democrats not to turn inwards and focus solely on domestic problems, suggesting the party had yet to acknowledge that Britain's future would be conditioned by its relationships with the outside world.
Recalling former Liberal Party leader David Steel's campaign against apartheid in the 1980s, he said the party must strive to live up to its outward-looking, international traditions.
"There are no simply domestic issues anymore."
"We are losing a trick. We have to spend much more effort to get across our internationalist credentials," he said.
While Nato would remain important, he said the UK needed to look beyond the "cosy club" of transatlantic relations and forge new alliances with other countries.
He said he foresaw a return to the "Europe of the 19th century" where diplomacy was conducted on a "multipolar" basis between leading powers.