David Cameron to hold Obama talks and address UN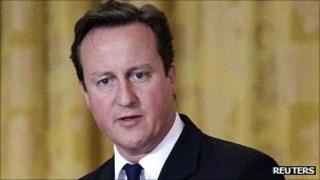 David Cameron has arrived in New York, where he is due to address the United Nations General Assembly.
The Palestinian bid for full statehood is expected to dominate the visit, with the UK prime minister also holding talks with several world leaders, including US President Barack Obama.
The UK government has not indicated how it would vote on the demand, which the US is threatening to veto.
Mr Cameron will visit Canada after addressing the UN on Thursday.
Palestinian president Mahmoud Abbas is due to make a bid for full statehood, but President Obama will urge him to drop the demand in a meeting later on Wednesday.
The UK has not said how it will vote if the matter is discussed by the approval of the 15-member UN Security Council, over which it and several other members hold a veto.
If the council recommends full statehood, the Palestinians would still need a two-thirds majority vote in the 193-member General Assembly for final approval.
'Debates'
But President Obama has vowed to veto the bid at the council stage, backing Israel's view that a resumption of direct peace talks offer the only route to peace.
An alternative course for the Palestinians would be to demand greater recognition from the UN, but a status which falls short of full nationhood. This could be passed by the general assembly without prior approval from the security council.
Foreign Secretary William Hague has made it clear that the Palestinian quest for UN membership is not a course of action that Britain recommends, saying: "It will just lead to confrontation."
But BBC diplomatic correspondent Jonathan Marcus said a "no" vote by Britain "would go down badly in the Arab world where Britain has sought to portray itself as a champion of change".
Deputy Prime Minister Nick Clegg said on Tuesday that there had been "debates" at the top of government over the UK response to a Palestinian statehood bid.
Amid reports of a split in the coalition over the issue, he added there was a "difficult judgement" to make.
The Labour Party has urged the government to support a Palestinian proposal if one is put to the security council.
Shadow foreign secretary Douglas Alexander said: "The case made by the Palestinians for recognition as a state is strong."
Mr Cameron will address the UN on Thursday, after which he will visit Canada for talks with Prime Minister Stephen Harper and to address the country's parliament.