Jealousy 'likely' over soldiers' NHS treatment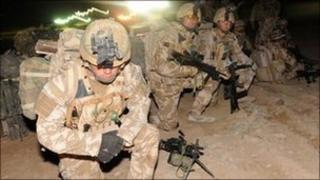 Special treatment for injured soldiers in NHS centres is likely to create some jealousy, armed forces minister Andrew Robathan has told MPs.
He said it was a "huge question" for ministers who wanted to recognise sacrifices made by the armed forces.
Concerns were raised about attitudes to personnel with top quality prosthesis.
The defence committee is looking into the government's pledge to put the military covenant - the nation's duty of care to personnel - into law.
The last dedicated military hospital closed in 2007.
Injured personnel are now treated at a military ward at Queen Elizabeth NHS hospital in Birmingham or other NHS centres - and there is a specialist military rehabilitation centre at Headley Court.
MPs on the Commons defence committee questioned Mr Robathan and health minister Simon Burns on a range of issues, including the long-term care of people with physical and mental illnesses, after they had left the armed forces.
'Tension'
They referred to concerns raised by the Royal College of Physicians (RCP) about the potential effects of injured personnel in NHS prosthesis clinics "being seen as being given a different level of service".
In particular there could potentially be cases where fire or police officers, also injured on duty, were being treated alongside veterans.
Labour MP Madeleine Moon said: "There are going to be different tensions and difficulties when people are moving into the NHS clinics and are going to be treated and seen alongside other civilians."
Defence minister Mr Robathan said it was a "huge question that we all need to recognise".
"In our desire, quite rightly, to recognise the sacrifice that the armed forces go through ... there is likely to be an element of, dare I say it... some form of jealousy, people say: 'Why is this person getting better than I?'.
"The police and fire service are of course people doing it in the service of the community as well but I would say that those that put their lives on the line for their country [deserve] a special place."
Health minister Mr Burns said he had heard similar comments and the challenge for the NHS was to "make sure we minimise the potential for jealousies by making sure that NHS patients get improved quality of service, quality of care and in this case we seek to improve the quality of the standard of the prosthetics."
Prosthetic costs
Forces charities have raised concerns that the NHS may not be able to continue to provide top-quality prosthetic services to injured personnel, once they leave the military rehabilitation centre at Headley Court.
A review by the Conservative MP Dr Andrew Murrison has been looking into the issue - including future funding of "high specification" prosthetic limbs for veterans.
MPs on the committee said "grave concern" had also been expressed about support for seriously injured personnel, after they returned to civilian life.
Replacing a "below the knee" prosthetic limb issued by the military rehabilitation centre at Headley Court cost £6,500 - while one issued by the NHS was only £350.
Maintenance costs for "above the knee" prosthesis were £2,000 - and they cost £9,000 to buy. The NHS version cost just £1,000 with little maintenance.
Ms Moon asked: "What assurance are you able to give that those replacement, quality prosthesis, are going to be at that high level across the lifetime of the individual who has suffered limb loss?"
Health minister Mr Burns said the matter was of "grave concern" to members of the armed forces.
But he said he could say no more until decisions were taken about the Murrison report: "We fully recognise the situation and the challenges and we are giving extremely careful consideration to the report and its recommendations".
The government had also been "making sure that GPs are aware" of a requirement that former forces personnel get faster access to treatment than other patients where possible.
But MPs were also told it was not "in a crude way of automatically queue jumping" but had to be "clinically decided" and relate to conditions sustained as a direct result of service.