MPs 'are not customers' of expenses body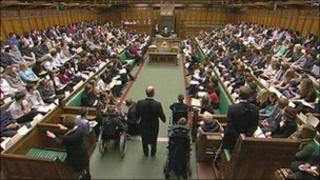 It is not the job of the Parliamentary expenses watchdog to provide "customer care" to MPs, its chairman has said.
A number of MPs have branded the Independent Parliamentary Standards Authority system too bureaucratic.
But Sir Ian Kennedy said Ipsa, set up following the 2009 MPs' expenses scandal, was a regulator and did not have "customers or clients".
If it had "customers" at all, they were taxpayers, he told an MPs' committee reviewing the law which created Ipsa.
Ipsa was set up to be independent of the Commons - after the previous in-house expenses scheme was widely discredited, but it is dependent on a committee of MPs to sign off its budget.
'Harangued'
And in May MPs voted to set up a separate committee on members' expenses to review the legislation which established Ipsa, amid claims MPs were being "harangued" over their expenses and some were so worried they were not claiming items to which they were entitled.
Sir Ian told the committee that Ipsa had made "significant and steady progress" in overhauling the system since its creation.
But he said the "largest challenge" so far was "the understanding of what Ipsa is about" by MPs and the public.
"I have had meetings when it has been put to me that the responsibility of Ipsa is, and I quote, 'client care' or 'customer care', but as an independent regulatory body set up by Parliament, we don't have customers or clients - just as I doubt the FSA regards Barclays as its customers.
"If we have any clients - and if the definition of a client is someone who, as it were, can go somewhere else and is paying for the service - then the client is the taxpayer.
"We do try to provide as good as service [to MPs] as we can... but we do it against the background of being an independent external regulatory body."
Toilet roll claims
He said Ipsa's statutory mandate was "not to support MPs" but to "have regard to the principle that we should support MPs in the execution of their parliamentary duties" - which also meant having regard to the "public interest".
Sir Ian said transparency was a vital part of Ipsa's role, but it must be "meaningful" transparency, and there were issues with how certain claims were singled out by the media.
"If every small item, let us pick for example, a toilet roll, although it's a perfectly legitimate thing to claim for and should be claimed for... nonetheless if the Barnstaple Bugle seeks to make something of it then that will happen," he said.
Sir Ian said he was considering publishing claims under generic headings such as "office costs" - rather than item by item - as long as Ipsa itself was able to keep itemised records.
The committee's Conservative chairman Adam Afriyie asked if local media coverage was considered by Ipsa, when it considered the impact of expenses publication on MPs' reputations.
John Sills, Ipsa policy director, said that while national newspapers' interest appeared to have dropped in MPs' expenses, with the local press "the smallest things can be followed up" - but said that might change as time went on.
Labour MP Nick Raynsford, one of the committee, questioned how much Ipsa had contributed to a restoration of public trust - and how much had been due to people simply forgetting about the expenses scandal over time.
Sir Ian replied that it could not be "taken for granted" that the only way was up for public confidence without a "clean break" from the old system.
The Ipsa chairman has given evidence in recent months to two other MPs' commitees - the Speaker's Committee on Ipsa and the public accounts committee.
Some of the topics raised by the members' expenses committee have been raised with him before - including the cost of processing claims, a comparison of costs with the previous expenses system and the amount of time MPs were spending processing claims.