Landale online: From Russia with love?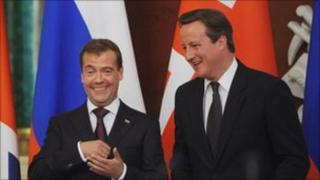 There comes a time in the life of every man when he goes for the wrong girl.
You know the form. The poor chap devotes dinner, gifts and charm on the girl of his dreams and just when he thinks he is in within chipping distance of the final green, she leaves town for a new job, or even worse, bunks off abroad.
This was the thought that passed through my mind as I watched David Cameron shimmy his way around Moscow.
With President Medvedev, it was all smiles. Both men clearly got on well.
He has good English and they shared jokes in private as well as in public.
When I asked Mr Medvedev whether Mr Cameron would have made a good agent after the prime minister revealed the KGB had tried to recruit him in 1985, the Russian President was game enough to acknowledge that Mr Cameron clearly had what it takes to make the grade at Dzerzhinsky Square.
Yes, they disagreed on the Litvinenko case, the sharing of intelligence and other issues. But both men were clearly willing to do their bit to get their countries talking -and trading - again.
'Grimace and grin'
How different it was down the road from Kremlin at the incongruously named White House.
There the body language was something else.
We journalists describe the staged events when politicians meet for the cameras as "grip and grins".
But when Mr Cameron met Vladimir Putin, it was more grimace than grin.
The Russian prime minister held Mr Cameron's hand for a cursory second or two before rushing to place a large desk between him and his foreign guest.
Both men held their poker faces intact while they read out bland prepared statements about how important it was for their countries to trade more.
The foreign secretary, William Hague, a man with quite a literary bent, could go no further in his adjectives than to describe the meeting as "constructive, cordial and businesslike".
So, on one level, Monday was a success for David Cameron.
The wrong girl?
There may have been no breakthrough on any of the issues that divide Britain and Russia.
But both sides said their pieces without incident and they did agree some trade deals.
Britain also agreed to speed up visas for Russian businessmen and Moscow agreed to lift its ban on British beef.
And most importantly, both sides were talking again.
The fact that no British prime minister had met, or spoken to, Mr Putin for four years was clearly something that needed to be put right.
But, and here's the rub, has Mr Cameron chosen the wrong girl?
The future of his new friend, Mr Medvedev, is uncertain.
Many do not now expect him to recontest the presidency in next March's elections.
They instead expect Mr Putin to stand again in the post he held until 2008.
And it appears that Mr Putin is much less amenable to Mr Cameron's charm.
So, the prime minister has made a little progress. Russo-British relations have thawed a degree or two. But the warmth is not evenly spread.