Ken Clarke says riots 'legacy of broken penal system'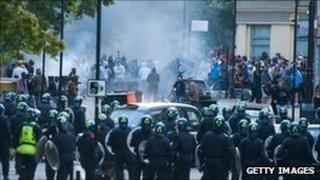 Justice Secretary Ken Clarke has blamed the "broken penal system" for the riots that erupted across England last month.
Writing in the Guardian, he said the "hardcore" of those involved were known criminals whose behaviour had not been changed by previous punishments.
Almost three quarters of those aged over 18 who were charged over the riots had a prior conviction, he added.
Mr Clarke argued that this made his efforts to reform the penal system and cut reoffending even more important.
The government is piloting payment-by-results schemes for private firms who successfully rehabilitate offenders.
Mr Clarke has argued that prisons should be used for the most serious offenders, suggesting that tough community punishments would be more effective at reducing reoffending for other criminals. But his proposals have been criticised by Labour shadow ministers who say they are driven by a desire to save money.
The justice secretary's articlecame as his department published figures showing that 77 per cent of adults arrested for taking part in the disturbances have a caution or conviction for a previous criminal offence. Speaking to MPs on Tuesday about lessons learnt from the riots, London's mayor Boris Johnson said he broadly supported Mr Clarke's analysis.
'Criminal classes'
In an article for the Guardian, the justice secretary said it had "not yet been widely recognised" that the majority of those charged with rioting or looting were known criminals.
"That is the legacy of a broken penal system - one whose record in preventing reoffending has been straightforwardly dreadful," he wrote.
"In my view, the riots can be seen in part as an outburst of outrageous behaviour by the criminal classes - individuals and families familiar with the justice system who haven't been changed by their past punishments."
Mr Clarke praised the justice system for imposing swift, tough penalties on convicted rioters, but said punishment alone was "not enough".
He outlined his planned changes to the penal system - including making prisoners work harder while behind bars - but said there needed to be wider changes to address "the appalling social deficit that the riots have highlighted".
"It's about having a job, a strong family, a decent education and beneath it all, an attitude that shares in the values of mainstream society," he wrote.
"What is different now is that a growing minority of people in our nation lack all of those things and indeed, have substituted an inflated sense of expectations for a commitment to hard graft."
'Injustices'
Work and Pensions Secretary Iain Duncan Smith said Mr Clarke was "absolutely right" to highlight high reoffending rates, adding that the situation was "ludicrous".
He told BBC Radio 4's Today programme: "What we end up doing is arresting, re-arresting and re-re-arresting the same people for different crimes."
Mr Duncan Smith called for "strong punishment but sensible punishment", saying: "The idea the length of the sentence is going to solve the problem is simplistic nonsense."
An independent "communities and victims panel" has been set up to investigate the causes of the riots and to consider any lessons that can be learned.
Prime Minister David Cameron has insisted the events were the result of "straightforward criminality", and were not about poverty or protest.
He has pledged to put "rocket boosters" under plans to turn around the lives of the UK's 120,000 most troubled families by 2015 - a vow echoed by Mr Clarke in his Guardian article.
Recent figures released by the Ministry of Justice show more than 1,500 people have now appeared in court over the riots which erupted in several English cities last month.
There has been criticism from some penal charities who say the sentences given have been too harsh, but Mr Clarke said judges and magistrates should be trusted "to base decisions on individual circumstances".
He added: "Injustices can occur in any system: but that's precisely why we enjoy the services of the court of appeal."