Call for Libya's al-Megrahi to be reimprisoned in UK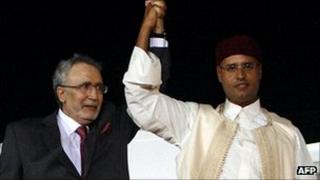 Abdelbaset al-Megrahi, the only man convicted of the Lockerbie bombing, should be sent back to the UK, a Conservative MP has urged.
Robert Halfon said Megrahi should be reimprisoned, preferably in Scotland.
He was speaking after forces opposed to the rule of Col Muammar Gaddafi took control of most of Libya's capital.
Megrahi was released on compassionate grounds by the Scottish government in 2009, a move criticised by David Cameron, at the time opposition leader.
Megrahi was given a hero's welcome by the Libyan authorities when he returned in 2009 - a spectacle condemned by MPs at the time.
The Libyan was diagnosed with terminal cancer more than two years ago.
'Back in prison'
But he appeared at a rally broadcast by Libyan state television last month.
Mr Halfon said it had been a mistake for Megrahi to be sent back to Libya and that, amid the apparent collapse of the Gaddafi regime, this decision should be reversed.
"He should be secured and, if possible, returned," he told the BBC.
"He should definitely be back in prison. If he doesn't come back he should be imprisoned over there."
The Scottish government recently defended its decision to return Megrahi to the Libyan authorities on the second anniversary of his release.
First Minister Alex Salmond said he stood by the decision, which had been made "in good faith and in the interests of Scots justice" - adding that it was based on the best medical advice at the time.
Megrahi was jailed 10 years ago for the Lockerbie bombing which claimed 270 lives in 1988.
The Foreign Office said Megrahi had been convicted in a Scottish court under Scottish law.
Legal issues
A spokesman said he could potentially be returned under the terms of his release, but this was a matter for the "relevant authorities" and was not something the UK government could interfere with.
Following a speech in London about the Arab Spring uprisings, Deputy Prime Minister Nick Clegg was asked whether, in the event that Gaddafi was ultimately removed from power, the UK would ask Libya's new leaders to return Megrahi to the UK.
Mr Clegg said there were "serious legal complexities" surrounding any such request which would have to be looked at.
But he added: "I would like to see al-Megrahi back in jail behind bars. That's where he belongs.
"My view is that he should never have been released by the Scottish administration in the first place."