England riots: Cameron and Miliband draw battle lines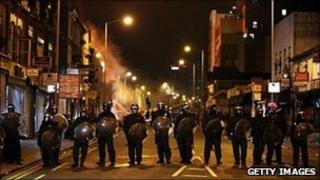 David Cameron was scarcely out of the youth centre door before the first critics of his speech spoke up.
Young people from his Witney constituency, invited to hear what he had to say, were angry.
"It felt like he was digging at us," said one.
"I've got no dad and I've never been arrested before," said another.
When the prime minister listed children without fathers as one of the nation's problems, some in his audience felt judged.
This was no accident.
Mr Cameron said politicians should be less afraid of doing exactly that - interfering, nannying, and telling the truth, as he sees it, about morality.
Troubled families
He knows very well that while it offends some, others in the country and his party will back him.
His argument is not simply that politicians are wrong to be reticent about making moral judgements, but also that their reluctance to do so is linked to the behaviour seen during the English riots.
Just as he believes political judgements can do great harm, he also believes they can effect great change.
His pledge to "turn around" the lives of 120,000 of the "most troubled" families before the next election is an ambitious one. No speech, law or single intervention will do that.
His critics will accuse him of preaching localism while trusting to the state.
But he thinks the range of initiatives run by local and central government, agencies and charities that already interact with troubled families can change the fabric of society.
'Partisan squabbling'
Inevitably, what cross-party consensus there was in the wake of the riots is falling away.
Labour's view is that the clear conclusions reached by the prime minister are hasty and superficial. They want an inquiry and argue, crucially, that poverty is a factor.
The party leader Ed Miliband says MPs, journalists and bankers that have been shown to be greedy and immoral are part of the problem.
There may be more agreement than is immediately apparent - Mr Cameron also highlights what he see as a moral decline in banking and elsewhere among the wealthy.
But battle lines are being drawn all the same.
The think tank where the now Work and Pensions Secretary Iain Duncan Smith worked on social issues before entering government has called for politicians to conduct these debates differently.
Executive director of the Centre for Social Justice Gavin Poole said it was time for "petty partisan squabbling" on family policy to end.
Moral tone
In truth, most politicians hope they can change society for the better.
Tony Blair's Respect Agenda was supposed to deal with similar social issues by combining tough punishments with intervention in the lives of troubled families.
Schemes that demonstrate success in dealing with social problems have grown used to a steady flow of visits from curious politicians and policy advisers.
Some now suggest that the problem with initiatives that have worked in the past, is they have been delivered piecemeal.
Talking about how a crackdown on gang violence can displace criminal activity to another area, Mr Duncan Smith said: "It needs to happen everywhere at the same time."
There are obvious challenges for politicians here.
Those preaching morality risk appearing patronising and hypocritical; Mr Cameron was quick to point out MPs are far from perfect.
No MP wants to echo the moral tone of John Major's Back to Basics campaign, which media critics swiftly used as a stick to beat a Conservative Party which at the time was dogged by personal scandal.
Voter expectations
Funding will also be an issue.
Mr Cameron says the idea that "throwing a wall of money" at a problem will solve it has been disproved.
Some of the government's plans, like the pilots of the National Citizen Service, are running and costed. But other schemes will not be delivered without expense, particularly if they are to be applied nationwide.
And then there are voters' expectations to consider.
We do not yet know exactly how the government will go to "war" with gangs, or transform the lives of families across the nation, but the public at large will expect improvements they can see and feel, which will have to be delivered at speed in a time of cuts.
Back at the Witney youth project - known as Base 33 - 19-year-old Jesse Day sums up the challenge: "We don't respect authority. Authority don't respect us."
In fact, Jesse and others sat quietly through the prime minister's speech and asked Mr Cameron challenging questions.
Those who run Base 33 say it recently suffered a financial crisis after annual donations dropped from £30,000 to just £10,000.
The centre is evidence, perhaps, that social problems can be confronted and corrected, but also that no-one, from the prime minister to youth centre trustees, will find it easy.