Government fully functioning, says Hague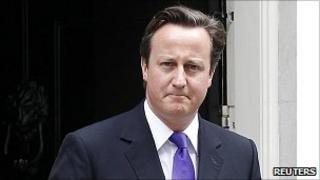 The UK government is "fully functioning" in the midst of the eurozone crisis despite David Cameron and George Osborne being on holiday, William Hague has said.
The prime minister and chancellor have been criticised for both being on holiday as share prices fall amid concerns for the global economy.
But Foreign Secretary Mr Hague said the government was "operating 24/7".
Labour said the coalition needed to show more "leadership" on the economy.
Mr Cameron spoke by telephone to the Governor of the Bank of England, Sir Mervyn King, on Friday morning, the BBC has learned.
European stock markets have continued to fall, with investors worried about both the eurozone debt crisis and the weak US economy.
This comes as fears over the ability of governments to pay their debts - which have led to Greece, the Irish Republic and Portugal already being bailed out - have spread to Spain and Italy.
'Not 18th Century'
A Daily Mirror headline suggests Mr Cameron, Mr Osborne and Deputy Prime Minister Nick Clegg - all abroad on holiday - have "gone AWOL" during the crisis.
Shadow chancellor Ed Balls said there was "a gaping hole where British leadership should be", with the UK government "absent from the global economic debate at this critical time".
Writing on the Guardian's Comment is Free website, he said: "That is not just the result of ill-timed and badly co-ordinated holiday plans.
"It is symptomatic of 15 months in government when their domestic policies have not only left the British economy weak and vulnerable, but when their contribution to global economic discussions has been zero."
Mr Balls' Labour colleague, shadow Treasury minister Angela Eagle, told the BBC: "I don't begrudge anyone a holiday, but I think it's extraordinary that the prime minister, the deputy prime minister and the chancellor are all away on holiday at the same time.
"I think they could have ensured that there was somebody who has the economy at the top of their job description actually on duty all the time throughout the summer."
But Mr Hague, the most senior minister currently in the UK, said: "The government is operating 24 hours a day. We are not in the 18th Century. Of course everyone is constantly in touch...
"The government is fully functioning in response to this crisis and anything else that's happening in the world."
Mr Hague also said: "We're constantly monitoring the situation and we're in close touch with our European and American counterparts.
"The chancellor and and the prime minister are getting constant updates.
"The crucial thing now is for eurozone governments to deliver on what they promised a few weeks ago. The Spanish and Italian governments must show they have credible plans to deal with their debts and to make their economies competitive.
"Even though we're not immune from these international pressures we've shown in the UK that economic credibility can be earned by taking tough decisions."