Maude promises new era of data transparency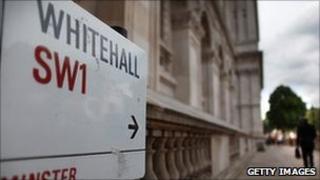 The government says its plans to make more data publicly available will usher in a new era, dubbed "Freedom of Information 2.0".
Prisoners' sentences and GPs' prescribing habits will be among the information released.
Launching a consultation on the plans, Cabinet Minister Francis Maude said the government should be "open by default".
The Freedom of Information Act, enacted in 2004, allows anyone to ask questions of a range of public bodies.
In a letter to cabinet colleagues last month, Prime Minister David Cameron said transparency could be a "powerful tool to reform public services, foster innovation and empower citizens".
The consultation aims to come up with a list of roles and responsibilities for a new Public Data Corporation, responsible for handling transparency.
Issues include how public bodies can be held accountable if they fail to open up, how data can be most efficiently collected and presented to the public, and how far information should be made available to businesses to potentially profit from.
Irreversible
Mr Maude said: "We want to get away from a position where data gets released as result of pushing and pulling to a position where we drive it out to put power in the hands of the public, where we are open by default.
"It's freedom of information 2.0."
The minister denied the changes would lead to an information overload or that people would be unable navigate their way through the data to find facts relevant to them.
He said the plans "shouldn't cost much" and should be irreversible, ensuring that all future governments maintain a similar level of transparency.
He also insisted there would be no attempt to restrict access to information that embarrassed the government, adding: "That's part of life. That's the price we pay for transparency."
Labour has said it is also committed to greater openness.