Watchdog will not investigate minister over detectives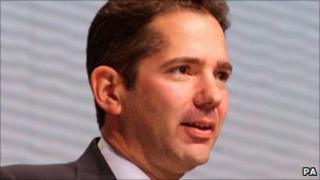 The Information Commissioner's Office says it will not be pursuing a complaint against Conservative Justice Minister Jonathan Djanogly about his use of private detectives.
Labour MP John Mann claimed they had used "improper methods", including "blagging", to obtain information.
But the ICO said the law banning blagging did not apply because the material was not of a personal nature.
Mr Djanogly said the accusation had been "politically motivated".
The MP for Huntingdon has admitted using private detectives to investigate a number of his aides and colleagues following what he called "a series of malicious allegations" about him relating to the expenses scandal.
He later said he may have "over-reacted", but insisted he had been assured by the investigators "that all of their inquiries were carried out in an entirely lawful manner".
Blagging addresses, phone bills, bank statements and health records - obtaining them without the owners consent - has been illegal since 1994, although there is a defence of doing it in the public interest.
Courts minister
Mr Mann said he had written to the ICO asking it to investigate what he believed were "wholly unethical" practices, which he said could ultimately be the subject of a civil or criminal case.
He called for Mr Djanogly to resign as a minister.
"His position is untenable because he is the minister responsible for the courts," said Mr Mann.
"He can't be responsible for the courts if he is also responsible for people who could be up in front of them.
"It's rather extraordinary that the government hasn't got rid of him already."
The ICO said it had looked into Mr Mann's complaint and had written to inform him it would not be taken further.
"The matters raised by Mr Mann do not appear to represent recorded personal information as covered by the Data Protection Act," a spokesman said.
"A potential breach of section 55 - the act's 'blagging' offence - does not therefore arise."
Mr Djanogly said in a statement: "I am pleased that the Information Commissioner has dismissed this politically-motivated claim and confirmed that no grounds exist for an inquiry."