Cuts won't harm UK's military standing, says Liam Fox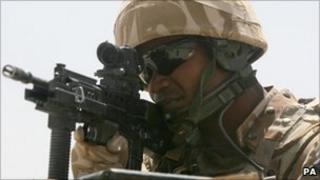 The UK will remain in the "Premier League of military powers" despite cuts to the armed forces, Liam Fox has said.
Addressing think tank Chatham House, the defence secretary said tackling the deficit was necessary as economic power underpinned military power.
But Labour said cuts were putting the national interest "in jeopardy".
Senior military figures have voiced fears of the impact last year's Strategic Defence and Security Review will have on the UK's standing.
The heads of the Army, Royal Navy and RAF told the Commons defence committee last week that the UK could no longer aspire to the "full spectrum" of military capabilities in its wake.
Ticking time bomb
On Wednesday, Air Chief Marshal Lord Stirrup, who was head of the armed forces at the time of the review, told the same committee the UK faced a period of "strategic shrinkage" with no guarantee resources would be available to rebuild the military after 2015 as planned.
Dr Fox, however, insisted that it would be the failure to deal with the deficit which could "set off a ticking time bomb that, if not defused, will inevitably result in strategic shrinkage".
He said that the review had been designed to ensure that Britain's future military power was built upon "a sound economic base".
"The Strategic Defence and Security Review has ensured that we will remain in the premier league of military powers. It is not an agenda for retrenchment; it's an ambitious agenda of transformation," he said.
Tackling the crisis in the public finances was, he said, not just a matter of economics but an issue of national security.
"It is central to sustaining, in the long term, Britain's reach, military power and influence," he said.
"Relative economic power is the wellspring of strategic strength. Conversely, economic weakness debilitates every arm of government.
"Structural economic weakness, if not dealt with, will bring an unavoidable reduction in our ability to shape the world."
Dr Fox said that while the review had "set the right direction": "Staying the course will require sustaining the strict cost-control regime I have put in place at the MoD.
"This will inevitably require that tough decisions are taken on a regular basis to keep the budget on track."
For Labour, shadow defence secretary Jim Murphy said: "Britain has a unique set of soft power and hard power capabilities and should remain a leading global power.
"This government, however, is making mistakes on defence and some of them may be serious. You cannot deliver this year's foreign and security policy ambition on next year's level of defence investment.
"With more cuts to come, our ability to project force and influence around the world in our national interest may be put in jeopardy."