Budget 2011: George Osborne laughs off Ken Clarke 'nap'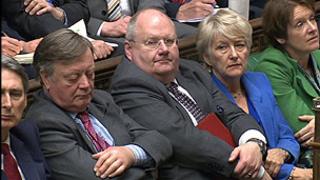 Chancellor George Osborne has laughed off suggestions justice secretary Ken Clarke fell asleep during his Budget speech.
The chancellor told ITV's Daybreak "if it was any consolation" he had already told Mr Clarke what was in it.
Labour leader Ed Miliband claimed in the Commons Mr Clarke had nodded off. Ladbrokes paid out to someone who bet it might happen.
Mr Clarke's spokesman later said: "Of course he didn't fall asleep."
The Budget statement, Mr Osborne's second as Chancellor, lasted 56 minutes.
During his reply, Mr Miliband criticised government measures aimed at accelerating economic recovery.
He added: "There is little reason that they will make the difference to growth we need.
"Indeed the justice secretary fell asleep during the chancellor's speech, his growth strategy was so compelling."
Mr Clarke, himself a former chancellor, laughed off the claims, amid much jeering from the Labour benches.
There was no definitive TV confirmation of whether Mr Miliband's claim had been correct, although there were shots of Mr Clarke with his eyes closed.
Ladbrokes said it would pay out on bets made at odds of 16/1 that Mr Clarke would doze off during the statement.
Spokesman Alex Donohue said: "Clarke might have been caught napping but our punters certainly weren't."