Profile: Jim Devine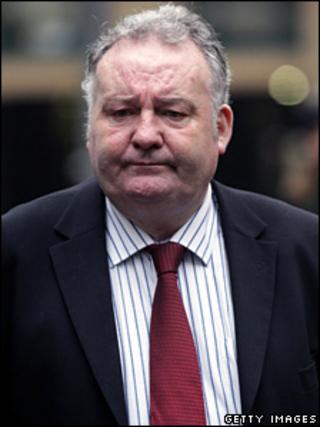 Jim Devine has been jailed for 16 months after being found guilty of making two dishonest expenses claims totalling £8,385 - the only MP to have stood trial over the scandal which rocked Parliament in 2009.
He was cleared of a third charge of false accounting involving two invoices for cleaning services of £180 each.
It is not the first time a ruling has gone against him. Last October an employment tribunal ruled he had bullied and harassed his office manager out of her job and awarded her £35,000 compensation.
By that stage Devine had already left Parliament - barred from standing for Labour again by the party after it held its own investigation into his expenses - and had been charged with false accounting over his expenses claims.
It was the end of a short career at Westminster - which followed many years working for the party and as a union official.
Devine was Robin Cook's election agent for more than 20 years, and best man at Mr Cook's wedding to second wife Gaynor, before succeeding him as MP for Livingston when the former foreign secretary died in August 2005.
He used his maiden speech in the Commons to pay tribute to the Labour politician as "the outstanding parliamentarian of his generation" and admitted he had "big shoes to fill".
Mr Cook famously quit as Commons leader over the decision to invade Iraq. Devine gave up the considerably less senior job of ministerial aide over the Labour government's decision to replace the Trident nuclear weapons system.
Born and brought up in West Lothian, Devine, 57, was a psychiatric nurse before moving on to work for the health service unions COHSE and later Unison, for which he became the Scotland organiser.
Embryology bill
He also held several key positions in the Scottish Labour Party, where he was chairman from 1994 to 1995.
After being selected to fight Livingston for Labour he told the Daily Record he wanted to be honest about past mistakes ahead of what was expected to be a bitterly fought by-election with the SNP, and admitted a number of affairs and a drink-drive conviction.
In Parliament he became a junior aide to health minister Rosie Winterton in 2006, but resigned from the unpaid post a year later over Trident. He was among 95 Labour MPs to rebel in a Commons vote.
He remained on the back benches and maintained an interest in health matters, backing plans to update human embryology laws and writing to the leader of Scotland's Roman Catholic Church, Cardinal Keith O'Brien, to ask him to meet scientists to discuss concerns.
Devine, himself a Catholic, said the Church was showing a lack of understanding about the controversial legislation which he said could give hundreds of thousands of people "hope": "This is not about creating Frankenstein monsters. This is about looking at serious illnesses like Alzheimer's and multiple sclerosis."
A father of two grown-up children, his trial heard he had been going through a divorce at the time he was making the disputed expenses claims.
Devine denied the divorce costs were "causing me a problem". He said his bank account had been overdrawn since he was 17-years-old and that money had "never been a motivation for me".
'Star chamber'
In June 2009, a month after the Daily Telegraph began publishing its expenses revelations, the Labour Party announced Devine would be the fifth of its MPs to face the party's so-called "star chamber" panel - to determine whether he could stand again for Labour in 2010.
It followed allegations surrounding receipts he submitted for electrical work from a company with an invalid VAT number.
He won the support of his constituency party but just eight days later, on 16 June 2009, he was told he could not stand for Labour again as an MP following the "star chamber" investigation.
Devine said he was "absolutely shattered" by the news, telling the Daily Record: "I have been hung out to dry by the party. This has been a kangaroo court."
In February 2010 the Metropolitan Police announced that Devine would face criminal charges over his expenses.
They were unrelated to the accusations levelled at him in the press. Instead he faced charges of false accounting under the Theft Act, alleging dishonest claims for cleaning services amounting to £3,240 and a false claim of £5,505 for stationery.
He said at the time he was "astonished" at the charges, which he said could be easily explained and said he had been treated very differently to a lot of other MPs, who had been allowed to repay thousands of pounds of expenses.
That same day he did an interview with Channel 4 News in which he was asked in detail about the charges.
A year later, the interview was picked apart by the prosecution at his trial. Peter Wright QC pointed out discrepancies between what he said then - and what he was now telling the court.
From the witness box at Southwark Crown Court, Devine repeatedly said he could not remember details, or why he had said things in the interview - saying he should not have done it as he was "completely shattered" at the time by the decision to charge him.
As he was cross-examined, he struggled to explain some of the comments he made - he told Channel 4 that he had a receipt for some of the cleaning work, but he told the trial he had shredded it, prompting the prosecutor to ask him: "Are you just making this up as you go along?"
He denied inventing characters to support his story - a Polish cleaner and a woman known as "Miss X" that he refused to name but claimed to have paid for work using some of the funds he claimed on expenses.
Asked why he had used blank invoices from another cleaning firm to claim for the Polish cleaner's work, rather than simply asking her for a receipt, he replied: "I honestly can't remember... I don't have an explanation... I don't remember a detailed discussion with her about receipts."
And the prosecutor noted that Devine was "in a minority of one" as every witness called had a different recollection of events to him. Mr Wright said much of the case was "a figment of Mr Devine's imagination".
Mr Devine maintained throughout that expenses officials and a fellow Labour MP had advised him he could make the claims, and although they were not "totally true", he denied what he had done was dishonest.
"I was provided a service, I paid for that service, I used the wrong receipts I do not dispute that," he said.
"If I was dishonest I would have made money out of this."